2018 Energy Market Overview and News
2018 Energy Market Overview and News
Market Overview – Key Developments
The UK gas and power system experienced a major test at the end of this winter, with a sustained period of extreme cold hitting the market when stocks and liquefied natural gas availability were limited. If winds had been calm instead of strong, the challenge would have been even tougher.
1: High Winter Demand For Heat
As it was, there were several days of undersupply in Britain's energy market, and prompt prices hit record levels as heating demand soared, which led to coal replacing gas in power generation.
2: Winter Wholesale Price Increases
Higher demand generally over the 2017/18 winter and firmer crude oil prices have also helped push up underlying wholesale prices. The outlook is less bullish as winter demand recedes with more renewables added to the generating mix leading to a forecast balancing of the economics of the power supply.
---
Market Outlook for 2018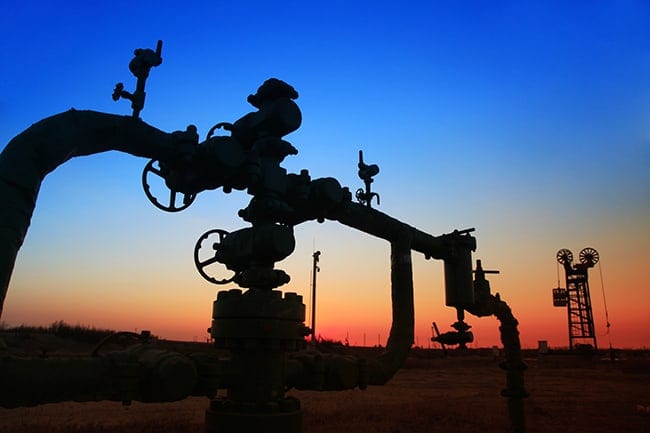 The shoulder month of April has so far seen tighter than expected markets, partly due to lingering cold weather and very low stock levels. One trader even suggested there could be a "structural change afoot" after a short gas system drove within day prices up to 57p/th in the morning session of 16 April. However, as the week of 16 April progressed, and sunny, and initially windy weather took hold, prompt and underlying prices have begun to ease back.
---
---
1st Quarter 2018 – Energy Market Highlights
After steady demand through the middle of winter, the end of February and early March 2018 saw a spell of extreme cold, which drove Day-Ahead baseload power prices to about twice their normal levels, at £90/MWh.
1: Highest Demand for Three Years Saw Wholesale Prices Increase 1,000%
The evening peak in power demand on 1st March was the highest in three years, and wholesale power prices surged, peaking at £990/MWh for one half hour period.
Total generation from fossil fuels remained around 20-25GW and wind output ranged from 11.8 to 13.8GW. In theory, up to 19GW of spare gas capacity was available if needed, although with a shortage in the heating system this was effectively out of action.
2: Gas Prices at Record Highs Due to High Demand and Limited Supplies
Gas was even more severely affected due to sky-high heating demand, and prices for Day-Ahead quadrupled from normal levels to a record 207.5 pence/therm (p/th)* on 1st March – the equivalent of over $30/mmBtu, and up over a pound on the day before. The highest price for within-day gas delivery reached 350 p/th on the 1st and 2nd March 2018 – an all-time record for the NBP.
On each of the days that experienced severe cold, the UK energy market system opened short of gas, due to high demand at around 400 mcm/d, or 35% above normal. But also because of limited storage and  Liquefied Natural Gas (LNG) availability, and some supply disruption to flows of gas from Norway and the UK continental shelf.
Europe Experienced Similar Price Hikes
In Northwest Continental Europe, the cold also combined with low end-winter storage levels and limited LNG stocks, as well as restricted Groningen output, leading to a similar spike in gas and electricity prices. This challenge caused a narrowing of the TTF-NBP spread as the cold snap set in, precipitating a fall in power and gas (IUK and BBL) exports to the UK.
From 1st March the spread widened again as milder weather began to move north across Europe, and by 2nd March, BBL and IUK flows rose to 35 mcm/d and 52 mcm/d, which was just enough to balance the UK system with the help of remaining LNG stocks before they ran dry.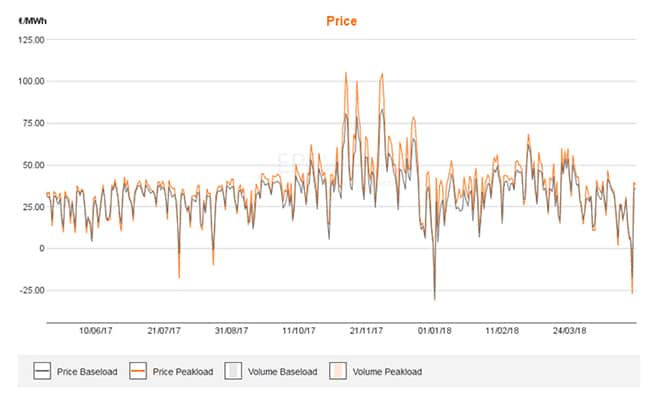 Source: EPEX Spot
Gas Shortage Warning Issued
The National Grid issued a gas supply warning on 1st March when the system opened 51 mcm short, and in response some big industrial users reduced demand, to help ensure supplies continued to residential users. The weather then eased, and five LNG cargoes arrived in early March, which helped the situation during another cold snap two weeks later, although prompt prices have remained somewhat elevated.
3: Gas Storage Closures Added to Demand Pressures
As well as the cold weather, the closure of Rough storage representing 70% of total UK storage capacity, reinforced the winter tightness. This cessation leaves the UK more exposed to demand spikes during the winter season (it also dampened demand in the summer, widening the seasonal spread).
The UK has relatively low storage capacity in any case compared to neighbouring countries, because domestic production used to be ample and flexible. However, as domestic production declines, this advantage is also being eroded.
4: Overseas LNG Buying Reduced UK Supply
In addition, supply was constrained by a tighter-than-expected winter LNG market, with a sharp increase in Chinese buying soaking up most spare cargoes from October to February this winter and last, leaving little spare for UK or Continental terminals. Holland's giant Groningen field is also now winding down due to repeated earthquakes, leaving less for export to the UK through the BBL and IUK pipelines.
The front year (from October) has now come off its recent highs at 47.1 p/th, but is up from around 33 p/th in April 2016, and 43 p/th in April 2017. As this suggests, the rises before this winter were even more significant, mostly taking place in late spring 2016, which was largely down to higher coal prices.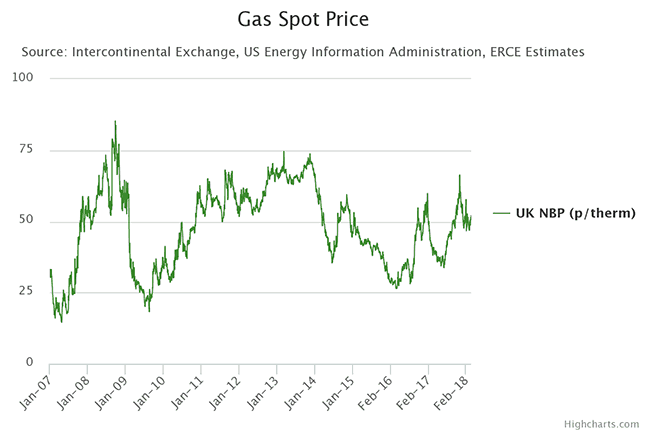 Source: ERC Equipoise
5: Coal Prices up by 50%
Coal is the main competitor to gas in flexible power generation in most of Europe's energy markets. Coal prices have surged by more than 50% since summer 2016. For example, calendar year 2019 stood at $57/t in mid-2016, and is currently around $80/t.
---
---
2019/ 2020 Forecasts
1: Reduced Forecast UK Gas and Coal Demand and Prices
Winter pricing beyond 2019 is projected to be much softer, probably due to forecasts of falling UK gas demand from power generators as more wind is brought onstream (see table 1). Winter 2020 prices are at just 47 p/th compared to 55 p/th for 2019, although beyond that there is little change, with 2024 also at 47 p/th. The UK Office of Budget Responsibility (OBR) expects the gas price to stay in the high to mid-40s p/th until 2023.
UK Power Generation Requirements Forecast Chart
| Fuel | 2017 | 2018 | 2019 | 2020 | 2021 | 2022 | 2023 |
| --- | --- | --- | --- | --- | --- | --- | --- |
| Gas | 130 | 118 | 112 | 100 | 81 | 70 | 66 |
| Coal | 10 | 13 | 12 | 9 | 13 | 7 | 7 |
Table 1. Source: BEIS, Statistical Office (TWh).
2: Renewables to be Number One Generating Source by 2020
These government projections were released in February, in the wake of two offshore wind schemes winning contracts at record-lows of £57.50/MWh last autumn (compared to anticipated wholesale power prices of £53/MWh from 2023 to 2035).
As a result, the government now expects renewables will overtake gas by 2020 to become the UK's number one source of electricity generation, with gas now providing only half as much power in 2035 as had been expected in its previous report a year earlier. In contrast, twice as much renewable power is now expected by 2035, compared to forecasts at the end of 2015 and twice as much battery storage as projected last year.
---
Immediate Future
LNG deliveries picked up quickly from mid-March, once Chinese LNG demand eased and Asian prices dropped back. Ample LNG availability should mean there will be limits to any upward price movement, although any unexpected pipeline supply outages would be supportive.
Coal Prices Stabilising – Crude Up
After their rises over recent years, coal prices have recently come under pressure, with looser fundamentals in Asia and the new German coalition government now planning to join the UK in phasing out coal for power generation.
Crude, on the other hand, continues to rise to new 3.5-year highs. Tight compliance from OPEC gradually eroded the stock overhang that weighed on prices since 2014. The tension in the Middle East contributes an additional risk premium.
No New Gas Production Awarded
As if to compound these projections, the latest UK capacity auction (in early February) – which pays for facilities to be available to produce power – once again failed to award contracts to any new gas-fired power plants. Instead, a large portion of new awards went to new interconnector supply. (Renewables do not compete in the capacity auctions as their availability cannot be guaranteed.) Gas demand from heating, however, shows little sign of falling – and this is where the real peaks in winter demand occur.