A Guide to The European Union Emission Trading Scheme (EU ETS) and Carbon Prices
Carbon prices are on the rise on Europe's ETS but have yet to catch up with the UK floor. The increases are likely to favour renewables and give a boost to gas at the expense of coal.

---
What is The European Union Emission Trading Scheme?
Established in 2005, the European Union Emission Trading Scheme (ETS) is the world's largest carbon market, involving more than 11,000 power stations and industrial plants across the EU.
Companies buy permits through auctions. Auctions that fail to clear due to a lack of bids have the volumes added to future auctions.
How Does it Work?
The ETS programme covers around 50% of total emissions within the EU and works as follows:
The ETS sets a cap on the amount of greenhouse gases (CO2) that organisations can emit each year with the emissions monitored and reported by each organisation.
A fixed number of allowances get issued, and each year companies need to hold enough allowances to cover their emissions.
If they don't have enough, they need to buy more on the ETS market.
Over time the caps get reduced, and fewer allowances get issued which is now beginning to drive up ETS carbon prices.
---
---
ETS Carbon Prices are at an All-Time High
Carbon prices on Europe's Emissions Trading System (ETS) have been trending upwards since last summer, propelled by a new plan to mop up surplus credits, while 2017 saw the first annual rise in emissions for seven years – pushing demand up slightly and providing another supportive factor.
By late May, ETS prices had breached the €16/metric ton mark for the first time since June 2011, with levels more than treble the record low seen in May 2017 of just €4.38/mt (see figure 1).
By August 2018 the price per tonne of carbon in the EU's emissions trading scheme reached €18 – the highest ever and triple the price per tonne from three years ago.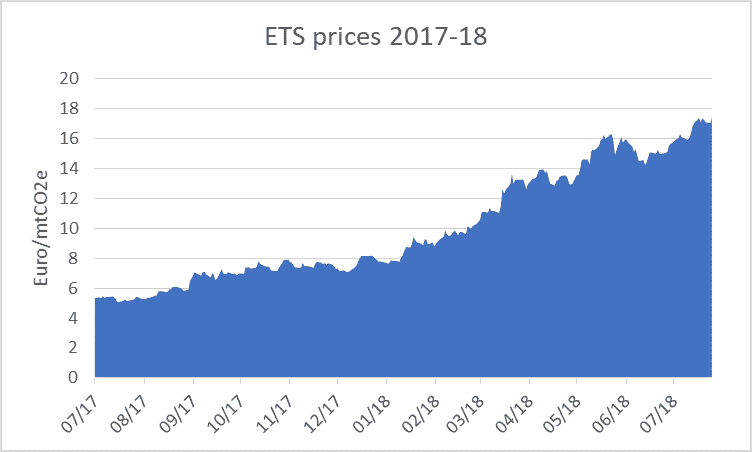 Figure 1: Closing ECX EUA Futures prices, Continuous Contract #1. Non-adjusted price based on spot-month continuous contract calculations. Raw data from ICE via Quandl and Sandbag.
---
The Market Stability Reserve Set to Push Prices Higher
Prices on the ETS system had been low because of an oversupply of allowances, which began after the financial crisis of 2008/9 amid quickly falling EU CO2 emissions.
Carbon Credit Surplus Cancellations
But last year emissions rose for the first time in seven years, and from January 2019 a new policy designed to mop up the surplus credits, known as the Market Stability Reserve, will come into force. It will cancel 24% of the surplus each year up to 2023 and 12% thereafter and has been the primary factor behind the recent carbon price strength.
Higher Prices Due to Higher Demand
The think-tank, Carbon Tracker, projects that ETS carbon prices could hit €20/mt in 2019 and €25-30/mt in 2020-21 as the supply squeeze starts to bite. They are already well on their way to this level, and some observers believe it will go higher still, especially if rules are tightened to ensure the adherence of the emissions reduction commitments under the Paris Accord.
---
High Carbon Prices Turn Coal Margins Negative
Higher German power baseload year-ahead contract prices also helped push up carbon prices. The German front-year clean-dark spread (which is the margin a coal plant makes) fell to -€2.46/MWh on May 25th, and then down to -€3.74/MWh on 1st June, making such plants temporarily uneconomic to run.
Low Cost But High Carbon Fuel Not Wanted
A high loss on coal margins clearly illustrates the impact higher carbon prices can have on the generating mix, effectively pricing high carbon emitters out of the market, even if they produce cheap power. This increase could raise the price of power and increase the risk of supply disruption, as well as encouraging investment in lower carbon generation.
Coal Plants in the UK Face Closure
In the UK the situation is more advanced. Figure 2 shows how the introduction of an £18/mt carbon price floor in the UK sent the dark spread into negative territory back in 2015, with only temporary moves into positive territory since then (mostly during winter), resulting in the closure of a number of coal plants.
Closure of cheap and flexible UK coal plants could push up the cost of power and make it more difficult for the grid to meet peak demand when renewables are low.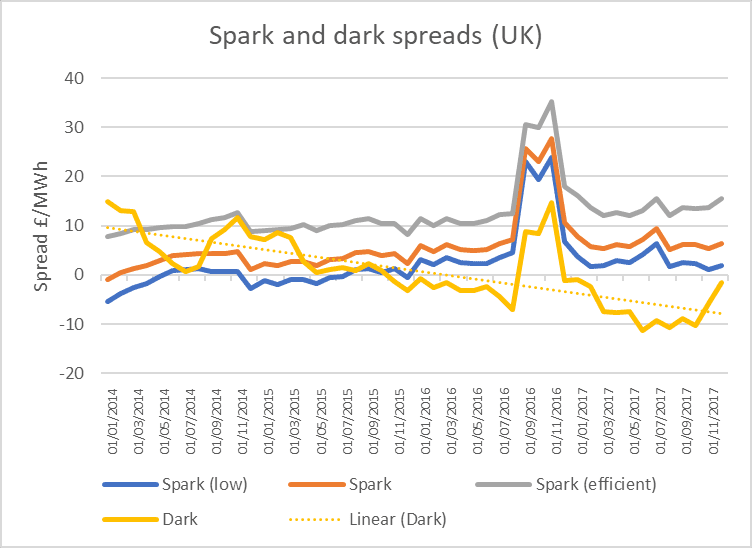 Figure 2: Spark and dark spreads in the UK 2014 – 2017. Data source, Ofgem
---
---
Different Country Strategies to Further Reduce Emissions
Many think a higher carbon price is the right way to go to reduce emissions.
France Wants a High ETS Price
President Macron of France has been calling for a significant rise in the cost of emitting carbon. France added a new fixed price carbon tax of €44/mt for petroleum products, rising to €84/mt from 2022.
Germany Has a High Coal Fuel Mix
In Germany, however, the new coalition government is opposed to any new carbon taxes because of the country's relatively high dependence on coal. Unfortunately for the Germans, the sharp rise in the ETS has much the same impact on the power sector as another carbon tax.
The UK Has a €18 Fixed Price
If sustained, the higher carbon prices are likely to shift generation towards less carbon-intensive power sources, with remaining baseload coal in Europe steadily replaced by gas and/or renewables (depending on the location) – as has been the case in the UK, where coal is now below 10% of the mix compared to more than 30% a few years ago.
The UK policy was adopted in 2013, and operates in combination with the EU ETS, establishing a carbon price floor. When EU prices are lower than the UK's price floor, generators have to buy credits from the UK Treasury to make up the difference.
The UK government said it intends to stay in the ETS until at least the end of 2020, by which time it could be trading higher than the UK's carbon price. Increasingly uncompetitive UK coal plants have all announced they'll shut down or convert to other fuel sources before 2025, which is the deadline for removing all coal from the UK system.
The Paris Agreement Could Triple The Price
Despite Germany's apparent opposition to new carbon taxes, EU member states officially called on the European Commission in May to come up with a plan for bringing the bloc into line with the goals of the Paris Agreement, which limits anticipated global temperature rises to 1.5C. If this happens, additional taxes would need imposing or prices on the ETS system would have to increase further.
The study from Carbon Tracker estimates that ETS prices could reach €25/mt by 2021 and €55/mt by 2030 if the European Commission uses it to bring emissions into line with Paris treaty targets.
The Future of Coal in Europe is Bleak
A higher cost of carbon would force remaining European coal plants off the grid more quickly, to be replaced by gas and renewables.
Carbon prices of $20/mt CO2 could shift 10-15% of German generation from coal to gas, according to McKinsey Energy Insights (MEI), and further rises would accelerate the trend. The switch away from coal would then quickly see the replacement of baseload gas with renewables, says MEI.
Battery storage will need to play an important role here, providing stability to the grid in combination with renewable sources, especially solar PV.
---
---
Conclusion
There is still some uncertainty about why and how far ETS prices will rise in the coming years.
And while an attempt to formulate tougher policy is on-going between the Commission and the European Parliament, any attempt to legislate to enforce the Paris goals through higher carbon prices would be likely to face strong opposition from Eastern European states.
These countries have no wish to increase their dependence on Russian gas at the expense of domestic coal use – and perhaps from Germany too.
Data Sources: