Make savings of up to £1,067 on your Business Energy renewal
Compare prices in 60 seconds
Exclusive deals with trusted suppliers
Complete Your Details Below For Your FREE Quote
By requesting a free pricing quote, you're agreeing to our privacy policy and trading terms. Your data is only used for finding you the best deal for your business and no other purposes.
Business Energy

is an independent and impartial comparison service for businesses looking to reduce the price of their utilities. Founded in 2009, we've helped 43,983 businesses save over £17.5 million. 
Compare Business Energy Suppliers 
We help companies of all sizes save money on their business energy bills. We have built strong partnerships with business energy suppliers across the UK so we can provide exclusive deals to our customers.
Our intelligent comparison engine will help you find great deals from a wide range of business energy suppliers, helping you identify savings that can be made on your business electricity and gas.
It takes just 60 seconds to compare business energy prices online. For custom energy tariffs, our team are more than happy to help build the right tariff for you.
Thousands of small and large companies across the UK have already partnered with us to reduce their energy bills. Start saving today by comparing gas and electricity prices.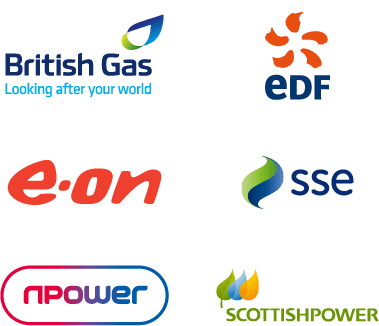 Our Trusted Business Energy Suppliers
We have strong partnerships with over 30 leading UK energy suppliers. Once you have found a deal, our team will get started and switch business energy suppliers for you. Our dedicated switching team will guide you through the process.
Our business energy comparison will provide you with great business energy prices from the 'Big Six' and independent energy suppliers. This provides you with everything you need to make an informed decision for your business.
You will only need to supply us with some basic information about your energy usage, business name and address. We will then find the best prices for your gas and electricity. If you would like to discuss your business energy quote further, our specialist team are happy to help.
Average Business Energy Bills
The average business energy bill is £3,061 per year for electricity and £865 per year for gas. Prices differ depending on consumption, credit rating and regional location.
These business energy rates do not reflect accurate prices that you will receive when comparing today's business energy prices. If you feel you're overpaying for your energy, now could be the time to compare business energy rates and switch to a cheaper energy supplier.
| Business Type | Electric (kWh) | Gas (kWh) | Total Bill |
| --- | --- | --- | --- |
| Micro | 7,500 | 5,000 | £1,478 |
| Small Business | 20,000 | 15,000 | £3,381 |
| Medium Business | 35,000 | 35,000 | £5,243 |
| Large Business | 90,000 | 75,000 | £12,107 |
| Industrial | 250,000 | 500,000 | £36,475 |
Prices last updated: February 2021.
Source: Gov UK
Large Business Energy & High-Volume Consumption
Organisations using large amounts of business energy have several specific requirements. Standard business energy comparison services do not account for certain specifics. We have helped large number of high-volume users save thousands on their business energy. The Business Energy team will build a tariff that works for you.
Our experts can advise on half-hourly meters, multiple buildings, and many more requirements for large business energy.
How to find accurate business energy prices
Renewal letters typically contain higher prices that market average. You should always compare business energy prices before agreeing to your renewal contract.
Business energy suppliers change prices regularly inline with market trends. Lots of factors effect business energy prices including weather, global events, and demand. Here is what you should do ensure you are getting an accurate business energy prices.
It is recommended that you regularly review your business energy. However, if wholesale market prices are lower than average, it may be a good idea to fix your business energy prices for a longer term. It's important to remember that once you have agreed to a business energy contract, you cannot exit the contact early.
1. Remember to terminate your contract

If you have decided to switch your business energy supplier, you need to terminate your contract before it comes to an end. Failure to terminate in time means your energy supplier will place you on a rollover contract. These are expensive contracts and prices will rise significantly.

Suppliers are not required to send renewal letters to businesses, unless you're a microbusiness. 

2. Locate Meter Registration Numbers

3. Information About Your Company

With so many factors impacting the price of energy, it is important we get accurate information about your company. This includes:

 

Business address and postcode
Required contract start date
All meter numbers
Consumption in kWh (this can be found on a recent bill)

 

With this information, the online prices will represent a more accurate picture of any energy deal available. This will also help make the process much smoother should you decide you're switching business energy.

4. Switch with Confidence

The only thing left to do is to select the best business gas and electricity contract. Our team of experts will manage the process for you, keeping you up to date every step of the way. Despite a complicated process, our team will make sure switching business energy is an easy process for you.

If you're unsure which business energy deal is right for you, we will take the time to understand how you use energy to advise on the best tariff available for your business.

Once you switch business energy with us, we will be in touch to remind you when your contract is coming to an end. This means you will never overpay for your business energy again.
Green Business Energy Tariffs
Many businesses are opting to make the switch to renewable energy. Quite often the first step is to select a green energy tariff. Our comparison service includes a range of renewable energy tariffs to help businesses become more responsible.
Whilst you will be familiar with many of the 'Big Six' suppliers, our comparison engine considers independent suppliers who supply 100% renewable energy. We will compare both 'Big Six' and independent green business energy tariffs without any bias.
Frequently Asked Questions
Why should I switch business energy suppliers?

Businesses use a lot more energy than households, so it is important to keep costs under control. Compare business energy suppliers to save hundreds of pounds each year. Many businesses use the money saved to reinvest in other parts of the business

Do business energy tariffs offer dual fuel option?

Business energy suppliers do not offer dual fuel tariffs. You will need to switch your business electricity and gas contract separately.

They can be easily managed if you switch both at them at the same time for the same contract length. This allows you to keep track of the contract end date.

What types of business energy tariffs are available?

Businesses are on one of five types of tariffs:

Variable-rate tariffs – on this tariff, the price of energy is determined by market activity. This means that prices can increase and decrease at any time. There is an element of risk to committing to this type of tariff. Businesses who would like some flexibility may chose this tariff, especially if the market is seeing low prices.

Fixed-rate tariffs – this tariff fixes the price of your energy. This means that you will pay one consistent cost per unit (kWh). Your bill will still be affected by the businesses level of usage. The more energy the business uses, the higher the bill.

Deemed-rate tariff – these are commonly known out-of-contract tariffs. These are rolling contracts with expensive rates. This is when no contract has been formally agreed.

Rollover contract – This is when no alternative contract has been agreed before your current one ends. These are usually the suppliers most expensive rates and should be avoided.

28-day contract – These are less common. Only businesses who have never switched their business energy supplier since the market deregulation are on this type of contract

How long does it take to switch business energy suppliers?

Switching business energy supplier takes 4-6 weeks. The process can be delayed if you have not supplied all the information needed to your new supplier.

If you switch with Business Energy, our experts will make sure that the process is as quick and as smooth as possible.