Compare Business Energy Prices
The latest business energy prices in just 60 seconds.
Why Compare Business Energy Prices & Switch With Us? 
Saving money on your business energy bills is easier the putting the kettle on. Prefer to shop online? No problem. Our business energy comparison engine not only lets you see live prices in just 60 seconds, but you can also complete your switch completely online. 
You will have access to a wide range of energy tariffs for your business electricity and gas. For large consumption businesses requiring a more bespoke tariff, we're just at the other end of the phone. 
Thousands of small and large companies across the UK have already partnered with us to reduce their business energy bills. Start saving today and compare business energy deals
Our Business Energy Suppliers
Energy Bill Discount Scheme For Businesses 
We all love a bit of discount and as many are feeling the pinch right now, it is very welcome news. 
First of all, the Energy Bill Discount Scheme (EBDS) replaces the old relief scheme. This means that discounts will be applied to business energy usage between April 2023 and March 2024. 
This discount will be automatically applied to business energy unit prices only if the wholesale prices exceed a certain level. The discount will be the difference between the wholesale price for that contract type and the wholesale price threshold – subject to a maximum discount. 
Energy providers will apply the discount automatically to bills and you do not need to apply for the scheme. Companies can switch business energy suppliers and still receive the EBDS discount.
Maximise your savings and compare business energy prices today. Companies can still switch business energy provider and make use of the discount until 2024. Our prices do not include the discount, but if you're eligible it will be automatically applied by your new supplier.
Normal Businesses (not Energy and Trade Intensive Industries)
Fuel Type 

Wholesale Price Threshold* 

Maximum Discount* 

Electric 

 

30.2p/kWh 

1.961p/kWh 

Gas 

10.7p/kWh 

0.697p/kWh 
Energy and Trade Intensive Industries 
Fuel Type 

Wholesale Price Threshold* 

Maximum Discount* 

Electric 

 

18.5p/kWh 

8.9p/kWh 

Gas 

9.9p/kWh 

4p/kWh 
How To Switch Your Business Energy Supply 
You'll need to switch each fuel separately as there are no dual fuel tariffs available for business energy contracts. However, this means you can source the cheapest provider for each fuel. 
You may find it easier to have a recent business energy bill to hand, although this isn't essential. We'll ask for your business address and permission to look up your meter numbers. In most cases, we will be able to get your annual consumption to offer you an accurate business energy quote. You will be able to see prices within 60 seconds once you start our energy comparison engine. 
Once you're happy with the price, We'll aim to have you switched over to your new supplier within 5 working days.
How To Find Accurate Business Energy Prices & Get The Cheapest Quote 
Finding the cheapest business energy quote is about having access to the most accurate information. Most of this will be on recent energy bills. A great starting point to getting a cheaper deal is to consider how your business uses energy. 
Consider the following questions: 
How much energy do I use annually? 
How much is my business energy bill each month?
What time of day or night do I use the most energy? 
Do I have multiple premises? 
Do I want to fix my prices for more security? 
Do I like my current provider? 
Do I have a smart meter? 
These questions can help shape your business energy quote and ensure you're getting the cheapest price possible for your business in our comparison engine. For example, your business may have access to more 'buying power' if you opt for a multi-site meter that combines billing of multiple buildings rather than having separate contracts.
As an impartial
business energy retailer

, we've helped companies of all shapes and sizes reduce their annual business energy costs by £1,067* on average. 
Average Business Energy Prices 2023
The average SME business energy bill in 2023 is approximately £8,413 per year for electricity and £1.653 per year for gas. 
Average business energy prices fluctuate depending on a variety of factors including wholesale prices, regional location and consumption. The figures presented are for business energy tariffs on a 2-year fixed rate and averaged across available suppliers across all regions of the UK. 
You should compare business energy prices today for an accurate quote. 
If you feel you're overpaying for your energy, now could be the time to compare business energy rates and switch to a cheaper business energy tariff.
;
UK
Business Energy Prices per kWh
 
Electricity (p/kWh)
Gas (p/kWh)
Very Small
(Micro Businesses)
32.50
11.70
Small businesses
32.10
10.30
Medium businesses
32.40
10.00
Large businesses
32.00
9.80
Extra Large businesses
(Corporate)
32.00
8.70
*updated May 2023.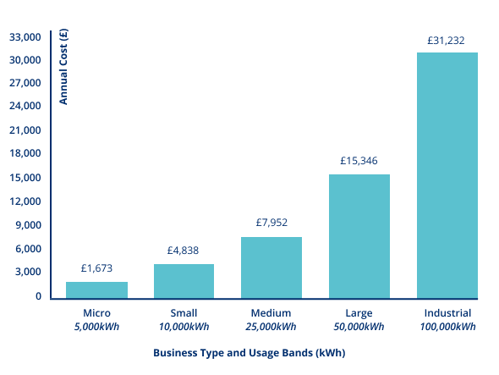 Variable Tariffs 

This is a flexible tariff and your unit price will change each month. Whilst this may be great for more flexibility, it does mean that there's a risk of paying higher rates if wholesale prices increase. However, this works the other way too if prices decrease. This tariff largely depends on a businesses attitude to risk.

Fixed Tariffs 

A fixed tariff is the most popular choice. This fixes the unit price for the duration of the contract regardless of what wholesale prices do. This means if wholesale prices start to increase, yours won't as you have your fixed tariff protection. This is great for businesses who would like some security and predictability when it comes to budgeting. 

Deemed Rate Tariffs 

Business energy suppliers will place you on a deemed rate tariff if no contract has been agreed previously. Typically, businesses who have just moved into a new premises may find themselves on this tariff. These business energy rates are usually the most expensive and should be avoided. 

Out Of Contract Rates

If you have not agreed to a new business energy deal before your current contract end date, you will be placed on out of contract rates. These are some of the most expensive unit rate that suppliers offers. 

Green Energy Tariffs 

A green energy tariff is a type of energy contract where your supplier matches the energy you buy with purchases of renewable energy. These tariffs are a great way to start the journey of reducing your business's carbon emissions. 
Small Business Energy Comparison
We understand how busy running a small business can get. This may mean that tasks like comparing business energy suppliers may often get pushed down the priority list. To eliminate these barriers, we have created a comparison engine that allows our customers to compare business energy prices, select a new tariff and switch completely online, whether your find a couple of minutes during the day or night. 
Should you need further assistance with your tariff or require a new energy meter, we're only a phone call away. 
Large Business Energy Comparison
We have a team of large consumption specialists that will build a bespoke business energy tariff based on specific requirements. With everything from multiple premises to half-hourly meters considered, we'll take care of everything. 
Business Energy FAQs - Let's Clear Some Things Up
Do We Offer Dual Fuel Tariffs?

Business energy suppliers do not offer dual fuel tariffs. You will need to switch your business electricity and gas contracts separately.

They can be easily managed if you switch both of them at the same time for the same contract length. This allows you to keep track of the contract end date.

What Is A Multi-Site Meter?

Got multiple business addresses? A multi-site meter allows owners to consolidate multiple buildings onto one contract and bill. This makes managing electricity usage for several sites much easier.

What is the Climate Change Levy (CCL)?

What Is A Half-Hourly Meter?

Half-hourly meters are mandatory for large consumption businesses with a maximum demand of 100 kWh of electricity or 70,000 kWh of gas or greater in a 30-minute period. 

These meters submit energy readings to your supplier every 30 minutes to ensure you're not billed based on estimated usage.

What Are Meter Numbers?

How Long Does It Take To Switch Business Energy?

We aim to switch our customers to their new supplier within 5 working days of approval.