Make savings of up to £1,067 by comparing business gas & electricity prices.
Compare prices in 60 seconds
Exclusive deals with trusted suppliers
Complete Your Details Below For Your FREE Quote
By requesting a free pricing quote, you're agreeing to our privacy policy and trading terms. Your data is only used for finding you the best deal for your home or business and no other purposes.
Reduce your Business Gas Prices
Switching your business gas supplier is one of the easiest ways to save money quickly.
Only 33% of SME businesses switch supplier every year. That leaves 2.93 million companies likely being overcharged.
We have made getting a business gas deal as easy as possible. We help thousands of companies every year save on their energy bills through energy efficiency advice and when they switch business gas suppliers.
We have built up a panel of trusted suppliers, meaning you can compare business gas prices and switch with confidence. Our commercial partnerships allow us to build a custom business gas tariff with exclusive prices.
We work with businesses of all sizes in many different industries. One average, we save each business £395. We've also helped UK businesses save over £22 million on their gas bills.
What Are The Average Business Gas Prices?
It can be difficult to estimate what you should be paying for your business gas. With prices increasing, it has never been more important to take control of your energy bills and save money.
Prices largely depend on several factors, but average business gas prices can be drawn from the businesses size and are also set by business energy suppliers based on energy market prices. Prices exclude CCL.  
Here are the typical kWh prices for business gas.
The average price for a very small/ micro businesses is 4.55p per kWh.

The average price for a medium business is 2.14p per kWh.

The average price for a large business is 1.77p per kWh.

The average price for a very large business is 1.79p per kWh.

The average price for business gas is 2.40p per kWh.
Source: Prices accurate as of 15th October 2021 according to the UK Government.
Calculate your average bills using our online gas calculator for metric and imperial meters.
Business Gas Prices by Supplier
Business gas rates offered by suppliers are often dependant on the length of the contract. For example, a business selecting a fixed-rate contract for 2 years will likely be offered cheaper business gas rates in comparison to a 1-year contract.
Whilst you may not want to tie yourself into a longer business energy contract, they usually offer the best business gas prices.
Here are the latest 1-year business gas prices from some of the most popular UK suppliers:
Supplier
(1 year)

fixed price per kWh

Daily
SC 

fixed annual
cost

Avanti Gas

0.044p

37p

£1,201

British Gas Lite

0.042p

45p

£1,217

British Gas

0.044p

46p

£1,297

Dual Energy

0.047p

25p

£1,274

EDF

0.043p

25p

£1,091

EON

0.044p

32p

£1,223

GazProm

0.041p

87p

£1,350

Octopus Energy

0.044p

27p

£1,194

Opus

0.043p

37p

£1,213

Scottish Power

0.041p

25p

£1,111

Yu Energy

0.041p

50p

£1,207
These business gas rates are based on an annual usage of 25,000 annual usage. Prices accurate as of 6th July 2021.
Current business gas prices show that EDF are the cheapest business gas supplier. However, it is important to remember that prices largely depend on location of your business premises, usage, contract length and some other factors.
Also, these prices change daily. You should be comparing business gas prices regularly to ensure you're getting a good deal from your business energy supplier.
How are Business Gas Prices Calculated?
Business gas prices are calculated differently from domestic customers. They can be affected by several different things including:
Business location
Size of business premises
Current spend on business gas
Overall consumption levels
Type of business gas meter
Energy market activity
It is getting much more difficult to get a better business gas deal with increasing prices. Wholesale gas prices are rising, causing business gas providers to increase prices. Despite increasing wholesale gas prices, it still remains best practice to secure the best business gas deal possible through comparing business energy suppliers.
Source: Ofgem, 2021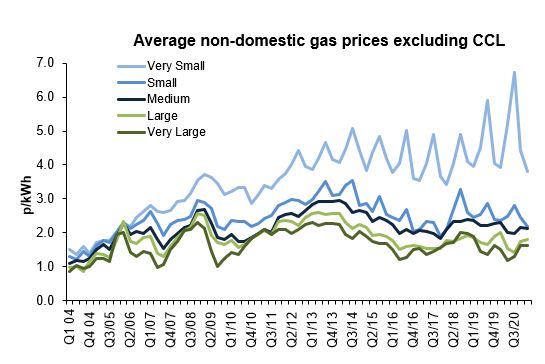 How Do I Switch Business Gas?
You can compare exclusive business gas deals in just 60 seconds. 
We just need some basic details about your business, and we will search the latest prices for the best deals.
Our experts negotiate on your behalf and will build a custom deal to meet your requirements. We will then search our panel of trusted energy supplier to secure your new gas supply contract. In almost every case, we will find business gas rates cheaper than your renewal.
Once we have found a great deal for your business, your dedicated account manager will keep you updated throughout the switch. We will do this via our online switch tracker. If you have any problems, we are only a phone call away.
The only thing you will have to do is to provide your old supplier with a meter reading so they can send an accurate final bill. We strive to make business gas comparison as fast and easy as possible so you can continue to do what you do best without worrying about business gas bills.
What Happens When I Switch Business Gas?
You're likely to be overpaying for your business gas if you have not switched in a while.
Once we have all the relevant business information, we will provide you with an account manager. They will keep you updated throughout the switch. We will update you via our online tracking system. If you have any problems, we are only a phone call away.
What tariffs are available for large commercial businesses?
Our experienced team offer industrial gas users the opportunity to enter into various buying schemes to lower their costs. These solutions allow you to select fixed priced termed contracts with the guarantee of market leading rates.
If you use over 732,000 kWh of gas per year, then submit your details online or contact the commercial team on 0800 002 9822 for further information.
What is the gas procurement options are available?
Commercial gas users require specialist knowledge either through their purchasing departments or a third-party expert. The tendering process ensures suppliers are challenged to produce competitive offers.
Additional changes through flexible billing, correct gas meter installation and account management could provide additional discounts.
The portfolio available includes the following schemes:
Basket pricing reduces costs by an additional 10% in some cases
Group procuring with other gas users to leverage buying power
Variable and fixed priced contracts
Direct wholesale market and National Grid procurement
Bundled dual fuel tariffs allowing further discounts
Other tailored options are available for companies using over 2,000,000 kWh of gas per year from a single site. All invoices generated exclude VAT at the standard rate.
Frequently Asked Questions
What is the best time of year to switch commercial gas?

New tariffs are only available once your current agreement has ceased. Most businesses renew in April or October during the second and fourth quarters of the year. Prices tend to be more competitive during these months. As the volume of quotes peaks, the demand improves industry competitiveness.

If your contract is coming to an end, then complete a business energy quote for your meters. If you'd prefer to speak to an advisor, then call us on 0800 002 9822 for transparent quotes.

Many companies are not aware that they can secure new business gas contracts unto 12 months before the end of the current deal. This is great for businesses who want to avoid expensive rollover contracts.

You'll need your postcode, company address together with your meter reference number to improve accuracy. You'll find these located on your most recent bill or original contract.

How can I find the lowest business gas rates?

To find the best business gas deal, comparing multiple energy suppliers is the most efficient way of finding a cheaper deal. All utility contracts are liable to automatic rollover terms. This means that failing to enter the switching process before the end of your contract could mean entering into a deemed rates contract.

Renewal letters are sent only to micro businesses. If you have more than ten employees, you need to terminate your current agreement proactively. Rollover rates can double or triple your current tariff with prices fixed for another contract term.

Before switching occurs, you must finish your current contract to be able to move to a new one.

What information do I need to compare business gas suppliers?

You can compare business gas prices online or over the phone with one of our expert advisors.

The most important piece of information we need is your annual usage figure. You will be able to find this on a recent business gas bill. This helps us provide accurate prices. For large commercial gas users you may be asked for additional consumption data to provide accurate rates.

To get an accurate quote, you will need a few things.  

Your current supplier. 
Decide if you want to switch your business electricity at the same time.
Have a recent business gas bill to hand for annual consumption.
Your meter numbers (also found on a recent bill).
Know your contract end date – this should be in your paperwork from your current supplier.

You may want to switch your business electricity supply at the same time so you can easily manage your business energy at once.

When can I Switch Business Gas Without Penalty?

You can switch business gas supplier if you are approaching the end of your contract. Often you can lock-in a new contract up to 12 months before the contract end date. This renewal window varies by supplier.

If you are entering the renewal period for your business gas contract, you will have three options:

Use an energy comparison expert to find the best available tariffs
Stay with your current supplier with expensive renewal prices
Check out each of the 20+ gas providers yourself and select the tariff most suitable

Option two works in the same manner as most other utilities. Your renewal offer is on average 35% to 100% higher than your current contract.

 

Suppliers will often hope you simply let your contract automatically renew for another one to three years. There are always cheaper alternatives in the marketplace.

 

Option three takes the most time. You won't access all the tariffs that some brokers purchasing power provides.

 

Switching business gas should be a priority for every business. It could save you 55% on your renewal letter offer. Get energy quotes each year to check your prices are competitive.

How long does it take to switch business gas supplier?

The process of switching business gas supplier can take longer than most domestic switches. It is recommended to allow 4-6 weeks for the process.

If your current contract is coming to end, you can switch to a new business gas deal which will begin as soon as your current contract ends.

At Business Energy, we will always keep you up to date with the progress of your business gas transfer.
Switching business gas contracts is a priority for every business because it could save you 55% on your renewal letter offer. Get quotes each year to check your prices are competitive.