Compare Business Gas Prices
In Just 60 Seconds
Take control of your business gas bills in 2023.
Our Business Gas Suppliers
Find the Latest Competitive Business Gas Quotes
You're only a few clicks away from finding great deals on your business gas. Who would have thought it was that easy? As a trusted energy retailer, we've helped thousands of businesses all over the UK secure great business gas quotes.
We're all about speed and convenience as we know how busy our customers are. That's why we've built an easy-to-use self-service comparison engine that allows you to find prices and complete your switch entirely online.
Don't worry, we're still at the other end of the phone if the personal touch matters. We'd love to hear from you. Based on some basic information, our engine will let you see tailored business gas quotes in just 60 seconds.
How Does Comparing Business Gas Suppliers Work?
Long gone are the days of going to a handful of suppliers and entering the same information repeatedly to find the cheapest business gas prices. All you need is a few minutes and your business address to get started.
For meter installation, bespoke large consumption tariffs and other services; we have experts on hand to take off everything under one roof.
Once you're happy with the tariff you have chosen, an account manager will handle the switching process for you. This means you can get back to doing what you do best, running your business. We'll keep you updated throughout the switch and we aim to move you to your new supplier within 5 working days.
Enter your postcode and we'll find your meter and usage
Select the tariff that's right for you from our panel of suppliers
We take care of the rest and handle the switching process
What are the Most Common Business Gas Tariffs?
Choosing the right type of tariff for your business can make a huge difference in how much you're spending on business gas. Think of a nice suit. Whilst one off the rack can fit most people, for some it would be a much better fit if it was tailored. Selecting your business gas tariff with this mindset could help you maximise your savings.
Fixed-Rate
This is one of the most popular tariffs due to its easy-to-manage pricing structure. On this tariff, your unit rates are locked in for the duration of the contract. This means you're protected if wholesale prices increase - but it also means you can't benefit from any possible decrease in rates. Many businesses prefer this tariff as prices could go up or down at any time.
Variable-Rate
For those more attracted to some risk and flexibility, a variable tariff could be the best fit. You will pay a different unit price per kWh each month depending on a number of factors including wholesale price performance.
What are the Latest Business Gas Prices Per kWh By Supplier?
With business gas prices stabilising in 2023, many are choosing to grab a fixed deal. Nobody can predict future business gas prices as businesses are looking at what they can do for some certainty around their gas bills.
Business gas prices per kWh are impacted by multiple factors including the location of the premises, overall consumption, contract length and wholesale prices. Here's a snippet example of the annual business gas bill by the supplier from October 2023. For a more accurate quote based on your business's requirements, you should compare today's live rates. It takes just 60 seconds to see a price.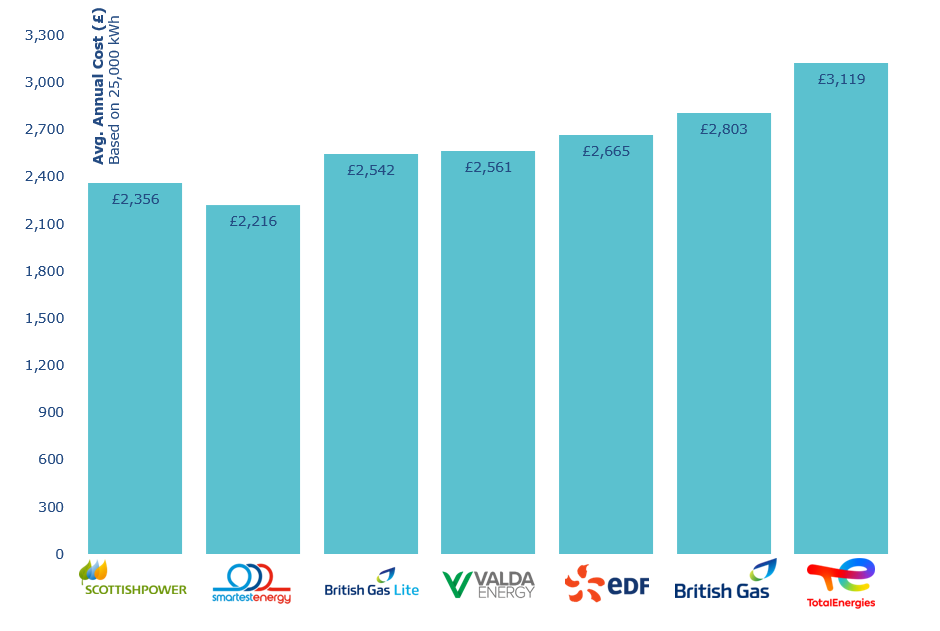 How to Make the Most of Your Business Gas Bills
Once consumers have navigated the confusing world of tariffs, they have to contend with an overload of information on their business gas bills. By gaining even a basic understanding of business gas rates and bills, it becomes much easier to find ways to reduce costs.
Looking out for incorrect charges, tariff details, meter readings can help you manage any errors before they become a larger issue. You will also find useful information that may help you when it comes to switching your business gas like your MPRN number, annual consumption and tariff details. 
Latest Business Gas Prices In 2023
Whilst you may find the above business gas rates interesting, you may be wondering how this translates to your own business's consumption. If you would like a rough idea of the unit price per kWh against your own consumption levels, here are the latest business gas prices per kWh in 2023: 
| Business Size  | Unit Price/kWh | Standing Charge | Annual Price (£) |
| --- | --- | --- | --- |
| Micro (up to 5,000kWh) | 12.6p | 46.2p | £796.86 |
| Small (5,000 - 15,000kWh) | 10.5p | 51.3p | £1,764.95 |
| Medium (15,000 - 25,000kWh) | 10.2p | 58.6p | £2,774.12 |
| Large (25,000 - 50,000kWh) | 10.1p | 79.2p | £5,325.65 |
| Very Large (50,000 - 100,000kWh) | 8.8p | 154.9p | £9,377.41 |
*updated November 2023. Data correct as of November 2023. These prices reflect a live market and are subject to fluctuation. Annual cost based on a 2-year contract and the maximum kWh usage within each business size banding. 
The average price for a very small/ micro business is 12.1p per kWh.

The average price for a small business is 10.1p per kWh.

The average price for a medium business is 9.7p per kWh.

The average price for a large business is 9.6p per kWh.

The average price for a very large business is 8.4p per kWh.
Business Gas Prices For Small Companies
We created our self-serve platform for small businesses that do not have a lot of time for admin. This means businesses can switch their gas tariff at any time during the day or night, 365 days a year. Whenever you have a spare minute, we are here waiting for you.
Commercial Gas Prices For Large Companies
For larger consumption businesses and more specialised requirements, we have a team of experts on hand to help deliver the right business gas solution. Whether you have legislative requirements for half-hourly meters, or you want to better manage consumption with a monitoring system; we're ready to arrange things for you.
Should I Renew My Business Gas Contract?
As your business gas contract comes to an end, you should receive a letter between 60 - 90 days stipulating the exact end date and whether you'd be looking to renew with your current supplier. Before agreeing to continue with the same supplier, we always recommend shopping around for a better deal, to save you and your business some money that could be invested elsewhere in the company. 
If you don't renew your contract with your current supplier or fail to switch to a better deal with someone new, you could be rolled onto a deemed tariff which is usually much more inflated and expensive. So, the best time to renew your business gas contracts is within your renewal window, to guarantee you don't end up paying more than you should. 
When you renew with BusinessEnergy.com you will be taken care of by our elite team of gas experts. They will handle all communications with your chosen supplier and will always negotiate a better deal for you. Our gas experts will also be able to find you the best deals when it comes back round to renewing again as your next contract ends, leaving you to run your business. We will take care of the gas side, and communicate with you on any updates.
Business Gas FAQs - Something Got You Scratching Your Head?
How Long Does It Take To Switch Business Gas?

We will aim to transfer you over to your new business gas supplier within 5 working days.

How To Read A Business Gas Meter

There are different ways to read a gas meter depending on the type. Whether you have a digital or traditional dial meter, you will read the numbers from left to right. You should ignore any numbers after the decimal point or numbers in red. For a dial meter, you should always choose the lower number if the dial is in between any numbers.

What If I Have Multiple Premises?

You can request a multi-site meter that allows you to consolidate the consumption of multiple buildings onto one account and bill. This makes it much easier to manage your business gas.

What Is A Micro Business?

A micro-business is a term used by suppliers and if you're classed as one, it comes with a few benefits; including the requirement of receiving renewal notices. You're classed as a micro business if you employ less than 10 people and have an annual turnover below €2 million, or if you use less than 293,000 kWh of gas per year.

What is a Deemed Contract?

If your business moves premises or allows your contract to expire without agreeing to a new deal, you may be moved to a deemed contract.

Deemed rates are often much more expensive than a negotiated tariff and could leave you significantly overpaying for the gas you use. You should look to compare gas prices as soon as possible to switch to a better deal for your business.

Will I Need A New Gas Meter When I Switch?

In most cases, you do not need to get a new gas meter when you switch. You may want to upgrade to a smart meter or a multi-rate meter if necessary. 

What Is An MPRN Number?

Also known as a Meter Point Reference Number, this is a unique number that tells suppliers who the gas supply belongs to. This is so that you are charged the correct amount and not for someone else's supply.

What If I Have a Bad Credit Score?

The bottom line is that having bad credit does not affect your business's ability to switch gas suppliers. However, you will be restricted and will not get access to the best rates.

Here are some challenges that businesses with a lower credit score may face:

Access to a smaller amount of gas deals. Prices may change or be withdrawn if you are deemed a higher risk.
You will have access to a smaller number of business gas suppliers.
Prices may be higher.

It's not all bad news. Many other factors come into play in addition to business credit scores. Business gas prices are based on the size of your business, the industry, annual consumption and many other considerations.

Suppliers often take your Standard Industrial Classification (SIC) number into consideration. This assesses a large amount of statistical and economic data. SIC classifies some sectors as having higher risks than others. The more uncertainty surrounding the industry, the more cautious suppliers will be.

Can I Switch to a Renewable Business Gas Tariff?

Many energy suppliers now offer renewable electricity and gas tariffs. Green gas is sourced from environmentally friendly sources including plants and animal waste.

Your supplier may include carbon offsetting in your renewable tariff by investing in green causes or committing to planting trees. As more customers switch to green tariffs, more renewable energy will go into the UK's energy supply.