Half Hourly Meter Installation & Tariffs
Does your business need a half hourly meter? Arrange easy installation and find great deals:
Very accurate billing
Tailored electricity tariffs
Structured energy management data
Access usage data for any of your site
Request a bespoke quote:
By requesting a pricing quote, you're agreeing to our privacy policy and trading terms. Your data is only used for finding you the best deal for your business and no other purposes.
Our Business Electricity Suppliers
Is a Half Hourly Meter Right for You?
Half hourly meters are a legal requirement for businesses with a peak demand of 100 Kilo Volt Amperes (kVa). Some businesses still choose to have a half-hourly meter installed if they do not fit into the peak demand legislation bracket.
If you're unsure what your peak electricity demand is, the information should be displayed on your bill.
Switching Suppliers With a Half Hourly Meter
Switching suppliers with a half hourly meter is very similar to the way you switch business electricity for lower consumption. The added benefit is that by using an energy retailer like us, we'll be able to negotiate a better deal with the supplier on your behalf. This means less admin, more competitive prices, smoother transition and a more tailored approach.
Why Should I Get a Half Hourly Meter?
1

Very accurate billing with automatic meter readings sent to your supplier every 30 minutes

2

Tailored electricity tariffs at great unit prices that actually suits your business needs 

3

Access your data for any of your sites and manage high-usage periods
If you don't quite meet the peak demand requirements but are still interested in having a half hourly meter installed, you're not alone. Many companies voluntarily have one installed to help them manage their electricity consumption better or in anticipation of future growth. 
How to Find the Best Deal on Half Hourly Meter Contracts?
Comparing business electricity prices as you would normally through our website is still one of the best ways to quickly find a deal for a half hourly meter contract. Here's what the process looks like:
We'll take some basic details and meter numbers on our online comparison engine. Feel free to call our expert team if you would prefer. 


We'll ask you to complete a Data Release Letter that enables us to obtain your current consumption data for the past year.


Using this information, we ask each energy company to bid for your contract.


Our relationships, together with specialist "group buy" or "basket" pricing, enables us to beat other brokers by up to 10%.
 
Select your preferred option to conclude the process. We'll process the necessary paperwork to update your contracts.
What Data Do I Need for a Half Hourly Meter Renewal?
Your consumption data is collected and stored by your current provider. You can only access the information once you've provided a letter of authority.
This data, with your building address with postal code, is enough to obtain the latest electricity prices. Not all energy companies will bid on your contract, but the majority will offer competitive quotes.
What Are the Main Benefits of Having a Half Hourly Meter
There are two main features and benefits associated with half hourly meters.
Automated Meter Readings
Half hourly meters offer large businesses more detailed and accurate information on their energy usage. This is useful for businesses seeking to increase their energy management.
Software programs allow you to import the raw data collected from a half hourly meter. From this, you can analyse trends and produce energy management reports. You'll be able to check and monitor consumption for any cost centre or premises you manage.
Energy Management
Advanced software packages can create alarms if usage is over a certain threshold. You can highlight variances against historical trends from the information produced. Most companies save an additional 10% on an annual basis by using these advanced analytical tools.
What Is P272 Legislation? 
Introduced almost 10 years ago, the P272 legislation aimed to move all high-consumption users onto a half hourly meter. This was phased in over time by energy regulator Ofgem for businesses in profile classes 5 to 8 to manage the Balancing and Settlement Code.
What Is P322?
This is a further modification to profile classes 5 to 8 helping these businesses and suppliers move to a half hourly meter. 
Assigning a Meter Operator
Contract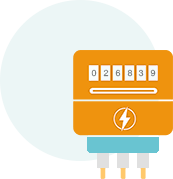 All halfchourly meters require a Meter Operator agreement to install and maintain the service.
These organisations can also provide management software to collect and analyse your usage data. You can use the default services from your supplier or appoint one yourself.
Half Hourly Meter FAQs
Does The P272 Legislation Apply To My Business?

All businesses in profile classes 5 to 8 that have an advanced meter installed are impacted. If your profile class is in this range, you need to upgrade to a half hourly meter asap. 

How Do I Know My Profile Class?

You will find your profile class number on your electricity meter. Look at your Meter Point Administration Number and to the box right of the 'S'. This is your profile class number. 

How Do I Know If I Have A Half-Hourly Meter?

To find out what kind of meter you have, look at the MPAN number on your last energy bill. The MPAN number can be found on the top left of your bill to the right of the S.

If your MPAN number is '00', you have a half hourly meter. If the number is 05, 06, 07 or 08, you'll need to upgrade to a half-hourly meter asap.