Half Hourly Meters & Multi-Site Procurement
Compare prices in 60 seconds
Exclusive deals with trusted suppliers
Complete Your Details Below For Your FREE Quote
By requesting a free pricing quote, you're agreeing to our privacy policy and trading terms. Your data is only used for finding you the best deal for your home or business and no other purposes.
Half-hourly meters are installed for large businesses. They help manage large amounts of energy usage.
Obtaining prices for businesses operating with a half hourly meter requires expert knowledge. The procedure is different from smaller businesses maximum demand meters.
Business Energy looks at how large businesses can make savings on a half hourly meter contract. Our team offers support and negotiation to source some of the cheapest business energy prices.
If you're looking for a half hourly meter, we can help. Some sectors where we help many smaller organisations include hospitality and catering.
---
What is a Half Hourly Meter?
A half hourly meter provides accurate consumption data for billing purposes. They send accurate meter readings to the supplier every 30 minutes. This stops supplier overcharging based on estimates.
Half hourly metering is mandatory for businesses with electricity usage in excess of 100kW.
Non Daily Metered (NDM) gas users can have an Automated Meter Reading device (AMR). This also send data automatically. Some energy suppliers insist that your meter should have an AMR. Most notably, CNG and Gazprom.
---
How to find the best deal on Half Hourly Meter contracts?
The quickest way to find the best deals for half hourly meter is by comparing business energy.
We negotiate directly with the leading energy suppliers. This means companies will not have yo source multiple quotes for different suppliers. Our expert team will handle the process of switching your business energy.
The Half Hourly Procurement Process
The process of switching half hourly meter contracts to other energy switches.
The process works as follows:
Simply enter your details on our business energy quote page or call our dedicated team on 0800 002 9822.
We'll ask you to complete a Data Release Letter that enables us to obtain your current consumption data for the past year.
Using this information, we ask each energy company to bid for your contract.
Our relationships, together with specialist "group buy" or "basket" pricing, enables us to beat other brokers by up to 10%.
Select your preferred option to conclude the process. We'll process the necessary paperwork to update your contracts.
Tender pricing is only valid for 24 hours, so the process is fluid.
Could you benefit from Multi-Site business energy?
If your business owns more than one building, a multi-site meter helps with management.

When you compare business electricity with us, you can bundle these together during the procurement process.
This makes the process easier in the future. It will maximise discounts as this shows greater buying power.
Total consumption and efficiency audits can also be arranged. This ensures you have the right class of meter installed. Changing meters takes advantage of differences in day, night and weekend tariffs.
---
---
What Data do I Need for A Half Hourly Meter Renewal?
What Data do I Need for A Half Hourly Meter Renewal?
Your consumption data is collected and stored by your current provider. You can only access the information once you've provided a letter of authority.
This data, with your building address with postal code, is enough to obtain the latest electricity prices. Not all power companies will bid on your contract, but the majority will offer competitive quotes.
---
Could your business benefit from Energy Management Software?
There are two main features and benefits of these meters.
Automated Meter Readings
Half hourly meters offer large businesses more detailed and accurate information on their energy usage. This is useful for businesses seeking to increase their energy management.
Software programs allow you to import the raw data collected from a half hourly meter. From this you can analyse trends and produce energy management reports. You'll be able to check and monitor consumption for any cost centre or premises you manage.
Energy Management
Today's advanced software packages can create alarms if usage is over a certain threshold. You can highlight variances against historical trends from the information produced. Most companies save an additional 10% on an annual basis by using these advanced analytical tools.
Example reports by the hour.
---
---
P272 Legislation
A change to the entire business energy market was introduced in 2015. The aim was to move all users to HH meters over the coming years. The migration started with those businesses using 05, 06, 07, and 08 meter numbers. Smaller businesses with 03 and 04 profile classes are set to migrate at a later date. There are still some that haven't yet migrated.
The regulator Ofgem initiated the P272 legislation change to manage the Balancing and Settlement Code. Prior to P272 those meters that aren't HH settled had prices based upon the yearly usage.
Benefits of moving to Half Hourly metering?
One of the main benefits of half hourly metering is that your consumption data is sent every 30 minutes. You are guaranteed that the data used to calculate your bill is always 100% accurate.
You'll also get access to the data yourself to perform trend and analytical research. The data can help manage the consumption.
Are there any Drawbacks or Risks?
Much like contract renewal, the risks of doing nothing have the greatest consequences. You should compare prices from different providers while proactively managing the change of HH settlement.
Comparing business electricity tariffs is the best way to ensure you are getting the best deal.
Migrating to a Half Hourly meter
All companies with a meter profile class between 05 and 08 will be already be using Automated Meter Reading (AMR). However, this will not be on a half hourly basis.
The good news is your meter is unlikely to change physically with all half hourly settlement changes configured remotely. You may want to appoint a Meter Operator (MOP), Data Aggregator (DA), or a Data Collector (DC) to manage the process.
If you don't, your electricity provider appoints one on your behalf. All these agent services must have regulatory approval. You should notify your electricity supplier of any contracts you have in place.
Assigning a Meter Operator Contract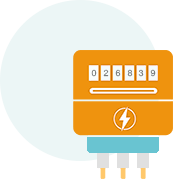 All HH meters require a Meter Operator agreement to install and maintain the service.
These organisations can also provide management software to collect and analyse your usage data. You can use the default services from your supplier or appoint one yourself.
---
Half Hourly Meter FAQs
Do I need a half hourly meter?

Half hourly meters are mandatory for UK businesses with a maximum demand of 100kW. If your business has a maximum demand of 70kW or greater in any half hour period, you can opt to have a half hourly meter installed.

What is the P272 Regulation?

The P272 regulation was introduced by the UK government in 2017 requiring companies in electricity-intensive industries to move from non-half hourly meters to half hourly meters.

Businesses using 05, 06, 07, and 08 meter numbers were required to switch to a half hourly meter as soon as possible. The aim of these changes is to ensure businesses have access to the most accurate data and billing.

How is a half hourly meter read?

Half hourly meters are automatic, so you won't be required to manually take meter readings for your supplier. Your meter will automatically transmit the data to your electricity supplier via mobile phone signals or a fixed data line.

How do I know if I have a half hourly meter installed already?

The easiest way to find out if you have a half hourly meter installed at your business premises is to check your MPAN number on your latest energy bill. This can usually be found at the top left of your bill and will be a series of numbers following the letter 'S'

If your MPAN number begins with numbers '00' you have a half hourly meter. If the number is 05, 06, 07 or 08, you will need to upgrade to a half hourly meter as soon as you can.