Who is Business Energy?
Business Energy.com launched in 2009 and is a leading UK B2B energy savings website. We're known for finding the cheapest electricity and  gas prices for every size of UK business via our independent and impartial comparison services.
---
Company History
When deregulation of the energy markets started in the Autumn of 1998, there was little competition in providing any type of comparison services.
Since we launched in May 2009, we've assisted thousands of people each month with the services and information they need. Our knowledgeable call centre staff are on hand six days a week to help you lower your energy bills and provide expert advice.
From 2009 to 2017
Over the years there was a proliferation of services in the home sector but businesses were short changed. Our company started operations in May 2009 after seeing a gap in the market for business users. We rebranded to BusinessEnergy.com on 1st October 2010.
Development of our comparison services began immediately to offer businesses an easy method to compare prices for their gas and electricity.
During our first eight years in business, we created direct relationships with all the major energy companies and the independent suppliers that provide B2B services. Now we have direct relationships with British Gas PLC, npower, ScottishPower, SSE, Opus, Gazprom, EDF, and EON with pricing agreements from all other market providers.
We developed online quoting tools, expanded our telephone customer services team, and developed our website to provide more information to users.
2018 and Beyond
We now have 16 staff providing support to all of the UK's 4.4 million businesses and associated premises. On average, each staff member has six year's experience in the energy industry. Our philosophy remains at the core of our services to provide unbiased and transparent advice in this industry.
Some of our energy consultants attend the annual TELCA industry awards. They all work with the regulator OFGEM to maintain professional standards and we can assist with ISO 50001.
---
Core Services Offered by Business Energy.com
Online and Telephone Quotes
Our online energy quoting system operates 24 hours a day, seven days a week. On average, we provide 9,270 quotes per year to small and large business owners. Our customer support staff handle calls during normal office hours from 8.30am to 6pm each day.
Additional Bespoke Services
The company is a leading provider of electricity and gas procurement, management, and support products to SMEs and industrial users. By excelling in these  broker services enables us to develop long-term partnerships in areas such as:
General and advance procurement commissioning.
Software services and support for consumption management.
Automated invoice validation against monthly bills.
CCR regulation, carbon offset reporting and credit purchasing.
Assisting other broker companies.
The experience of the team does not stop at there. Dedicated account managers help foresee potential issues to provide strategies for future growth. Each new customer receives a fully integrated coordinated approach ensuring proactive management and cost reductions.
Website Services
The simplicity and ease of use from web-based applications have enabled online quoting tools to be available to commercial users. Using these services saves valuable time in searching for contract extensions and new terms.
If you want to contact us, please use our contact form. To get today's prices, please see our online quoting forms  from our home page.
The video below explains the services we offer.
Follow us on Social Networks:
---
Team Profiles
Meet some of the experts behind the BusinessEnergy.com website.
Alex Loijos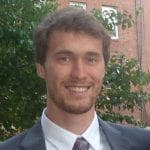 Alex Loijos is a materials and energy efficiency expert and entrepreneur, with more than six years of experience helping manufacturers improve material and energy efficiency to increase profitability.
His professional accomplishments include co-founding two software companies and managing product development teams.
Alex won a TechStars Boston and PayPal Start Tank funding award for his start-up business.
He aspires to lead and to learn for a lifetime, while combining a strong work ethic with effective team building and communications to enable innovation in the manufacturing sector. Loijos earned a MS in Technology and Policy from MIT and is a frequent speaker at energy conferences.
Jes Rutter

Jes Rutter is Managing Director of energy consultancy JRP Solutions and Chair of the ESTA Independent Energy Consultants Group. A recognised UK expert in improving the effectiveness of energy use, particularly within industrial process environments, Jes has successfully applied his 33 years experience in energy management to develop and implement practical, tailored solutions for and on behalf of private and public organisations.
Jeremy Bowden

 Jeremy Bowden is a freelance journalist, analyst and editor, specialising in energy-related issues. He has been working in this role for almost 10 years, with clients including leading global consultancies and accounting firms, as well as energy companies and public relations specialists.
Prior to his freelance role, Jeremy worked full-time in London and Singapore in energy, specialist energy media and utility sectors for 17 years, including spells as an editor and manager at IHS, Dow Jones, Argus Media and Thames Water. His qualifications include a Master's in International Business and Finance from Reading University, and a degree in Economics.
---
Awards and Accreditations


We adhere to the Utilities Intermediaries Association code of conduct for quoting and marketing purposes. The privacy of your data is important to us. Our  privacy policy contains essential information on the protection of your information.