Make savings of up to £1,067 on your business electricity renewal.
Compare prices in 60 seconds
Exclusive deals with trusted suppliers
Complete Your Details Below For Your FREE Quote
By requesting a free pricing quote, you're agreeing to our privacy policy and trading terms. Your data is only used for finding you the best deal for your home or business and no other purposes.
How to Reduce Your Commercial Electricity Rates
Electricity is one of the biggest expenditures for businesses in the UK. Overpaying on your electricity rates can be costly.
At Business Energy, we can help your business navigate the world of business electricity to find the right deal for you.
We negotiate directly with suppliers on your behalf. Our goal is to ensure you have access to the best commercial electricity rates in the UK.
If you're looking for a new deal for your business electricity, we can help. Some sectors we help regularly include hospitality, manufacturing and catering.
What are the Average Business Electricity Prices per kWh?
Commercial Electricity Rates by Business Type
For many businesses, it can be difficult to know how much they should be paying for their business electricity.
We've researched the average business electricity per unit. Our goal is to offer a guide for any business seeking to compare electricity suppliers. You will be able to make an informed decision based on this information. 
This table shows the average usage and total energy bill for the common types of business in the UK. Prices may vary according to your meter type and geographic location.
Source: BEIS
| Business Type | Electric (kWh) | Gas (kWh) | Total Bill |
| --- | --- | --- | --- |
| Micro | 7,500 | 5,000 | £1,518 |
| Small Business | 20,000 | 15,000 | £3,664 |
| Medium Business | 35,000 | 35,000 | £6,563 |
| Large Business | 90,000 | 75,000 | £15,609 |
| Industrial | 250,000 | 500,000 | £52,931 |
Commercial Electricity Rates UK Graph
No matter what the size of your business, the team at Business Energy can help you reduce your electricity bills.
Here are the average energy prices per year by business type. Remember that these prices are not the cheapest available. Comparing business electricity is the quickest way to find the best deal for your business.
These results are for standard meters with a profile class of 03 or 04. Max demand meters with a class of 05 to 08 see standing charges rise to as much as 70p per day.
Source: BusinessEnergy.com 2021.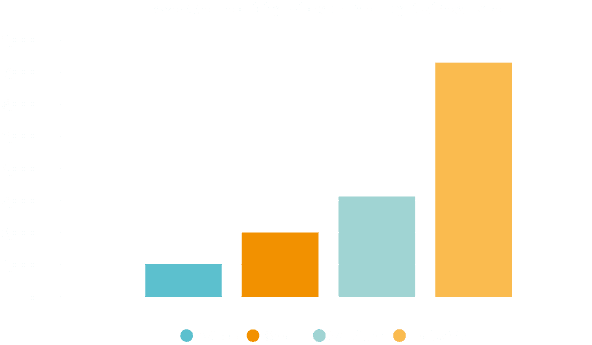 Average Electricity Prices by Supplier
Compare Electricity Suppliers with Business Energy
Comparing prices with Business Energy provides you with exclusive deals not available direct. We search our large panel of trusted suppliers for the best deals. If you decide to switch, we will take care of all the leg work.
Usage and other government initiatives have increased average bills by 100% or more over the past seven years. Current averages across all sectors are as follows:
The average electricity bill for UK businesses is £3,061 per year.
The average unit price per kilowatt hour (kWh) is 14.36p per kWh.
The average daily standing charge is 28p per day.
Most businesses use between 15,000 and 25,000 kWh per year.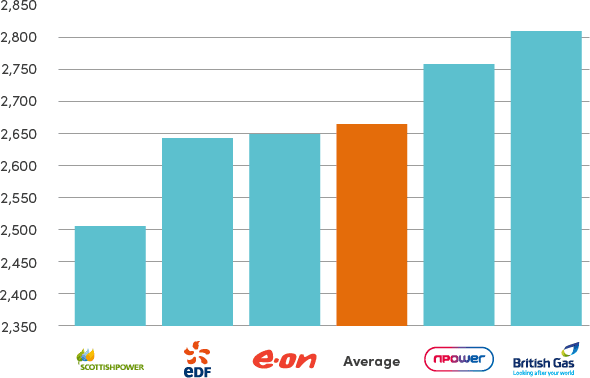 Business electricity rates vary and are dependent on the length of the contract and usage. For example, a business using larger amounts of electricity and fix rates for 2 years plus will be offered a cheaper cost per kWh of electricity. 
Here are the latest business electricity rates from some of the most popular UK suppliers based on a fixed priced 1-year business electricity contract:
| | | | |
| --- | --- | --- | --- |
| Supplier | Fixed price per kWh | Daily standing charge | Fixed annual cost |
| British Gas Lite | 0.175p | 32p | £4,515.49 |
| British Gas | 0.19p | 42p | £4,907.01 |
| Dual Energy | 0.18p | 30p | £4,613.80 |
| EDF | 0.186p | 25p | £4,536.63 |
| EON | 0.19p | 32p | £4,884.20 |
| Octopus Energy | 0.185p | 43p | £4,748.66 |
| Opus | 0.188p | 34p | £4,841.13 |
| Scottish Power | 0.174p | 30p | £4,469.00 |
| SSE | 0.177p | 36p | £4,727.97 |
| Total GP | 0.177p | 58p | £4,650.20 |
| Valda | 0.20p | 0p | £5,216.25 |
| Yu Energy | 0.192p | 29p | £4,741.56 |
These business gas rates are based on an annual usage of 25,000 annual usage. Prices accurate as of 6th July 2021.
Current business electricity rates show that British Gas Lite is currently the cheapest electricity tariff based on a 2-year fixed contract. Remember that cheaper rates are often available for higher usage businesses. To ensure you're getting a great deal on your business energy, you should compare business energy rates.  
Finding the Lowest Business Electricity Prices
With average bills continuing to rise, now is the ideal time to compare business electricity prices.
You will likely be paying more than you should if you haven't switched in while. It's easy to get a business energy quote today.
Although renewal letters are sent to micro businesses, this doesn't apply for larger organisations. This has left many businesses on rollover contract. These are expensive out of contract rates. 
Around 10% of micro-businesses are on deemed contracts. The prices of these contracts are 80% more than rates charged in negotiated contracts on average.
We help businesses of all sizes save on their business electricity and gas. We'll advise on half hourly meters for large businesses who are looking for the best deal.
We find you a range one, two and three year fixed rate contracts. This depends on the needs of your business.
We will even be in touch with you when your contract is coming to end. This ensures you stay on a cheap business energy contracts
All businesses have the option to generate their own power. They can sell the excess back to the National Grid via Feed-in Tariffs (FIT). The FIT can be used to offset charges from overall usage.
There are over 100,000 traditional half hourly meters that take readings every half hour. This is in addition to those customers using max-demand meters under the P272 legislation.
How to Switch Electricity Supplier with Business Energy
Before you start comparing business electricity, it's helpful to have your contract or your latest bill to hand. This way you can make a note of how much you are currently spending and how much your business can save by switching.
All we need to provide you with a quote is the name of your current supplier, your business name and your postcode. We will then search through prices from all energy suppliers and provide you with the best quotes online.
Once you've chosen the right energy tariff for you, our energy experts will get you set up with your new supplier.
The only thing left for you to do is to cancel your contract with your old energy supplier and send them your meter readings to receive your final invoice.
How to Reduce Your Business Electricity Usage
Saving energy is important for all businesses. When it comes to electricity, there are simple steps you can take to reduce your usage.
Your business can benefit from cheaper business electricity prices and reduce your impact on the environment.
Adding an energy monitor onto the meter to visualise live usage.
Changing legacy meters with the new smart meters.
Using management software to analyse trends and peak demand.
Installing A+ grade efficient appliances 
Upgrading to efficient LED lightbulbs.
Ensuring that during the night and weekends all lighting and computers are switched off.
Carrying out a professional or DIY energy audit.
Research shows that 10%-20% reductions in consumption can be achieved just by introducing these simple measures.
Business Electricity FAQs
What affects my business electricity price per kWh?

Business electricity prices per kWh can vary depending on a range of factors. Businesses can pay different rates depending on how they use electricity.

Your business electricity quote can depend on:

The type of business you run.
The size of your business.
Your average annual electricity consumption.
The location of your business.
The length of your business electricity contract.
The type of tariff you choose.

The current wholesale costs of electricity can also affect your business electricity quote. The wholesale cost is the price your supplier pays for the energy it supplies to your business. This can rise and fall depending on demand, political events, and many other factors.

What are my business electricity tariff options?

The two main tariff options offered by suppliers are fixed rate and variable rate tariffs. With a fixed rate tariff, you will pay the same cost per kWh price throughout your contract. Variable tariffs can rise and fall depending on electricity costs at the time.

What if my business has more than one location?

Businesses with multiple locations can switch to a multi-site tariff. Multi-site electricity tariffs allow your business to have one contract for various locations. This can help you manage your energy contracts across your business.

You can even access cheaper electricity prices due to your greater buying power.

Should I switch to a no standing charge electricity tariff?

A no standing charge electricity tariff can be beneficial for businesses which use energy infrequently.

If you run a business which is only open on weekends or operates seasonally, a no standing charge could help lower our bills.

Most electricity contracts come with a set daily fee. This covers the cost of your supplying electricity to your premises. This is charged no matter how much energy you use that day.

With a no standing charge tariff, you won't be required to pay this fee. This means you will only pay for the electricity you use. However, your price per kWh can be higher with a no standing charge tariff. If you are regular energy user, you may end up facing higher costs with a no standing charge tariff.

Should I choose a multi rate electricity deal?

Multi-rate electricity tariffs allow you to pay one rate during peak hours and a cheaper rate during off-peak hours.

These tariffs can be a great option for businesses which usually operate or use energy at night. Electricity prices per kWh will often be higher than a standard tariff during peak hours. However, your unit rate will be cheaper in off-peak hours.

The most common multi-rate options are Economy 7 and Economy 10 tariffs. These tariffs provide 7 and 10 hours of off-peak rates respectively.

How long does it take to switch my business electricity supplier?

The process of switching your business electricity can take between 4-6 weeks.

Switching with Business Energy is easy. Our experts will keep you up to date with the progress of your switch and answer any questions you may have.

Will my electricity supply be cut off when switching?

No, you won't lose your electricity supply during the switch. We will liaise with your new and old supplier to ensure your switch can take place seamlessly.

Does my business need a half hourly meter?

As the name suggests, a half hourly meter sends updated readings to your supplier automatically every half hour.

This means a business can receive accurate and up-to-date energy bills without taking or submitting readings manually. Large businesses with high energy usage such as factories, warehousing our large offices are the main workplaces that could benefit from a half hourly meter.

If your business has a maximum demand of 100kW or greater in any half hour period during the day, you will be required by law to use half hourly metering. You can find out more about half hourly meters here.