Business Electricity Comparison
See Prices In Just 60 Seconds
Take control of your business electricity rates in 2023.
Why Compare Business Electricity Prices & Switch With Us? 
We're all about helping UK companies save money on their business electricity. Ever heard the song 'Simply The Best' by Tina Turner - we obviously can't say we're the best, but we think we are pretty good at helping our customers save money. 
Based on some basic information, our intelligent business electricity comparison engine will let you see tailored prices and tariffs in just 60 seconds. Switch online, or we're just on the other end of the phone if you need some office hours help. You can switch suppliers anytime, even when you enjoy burning the midnight oil. 
Our Business Electricity Suppliers
How To Switch Business Electricity 
With us, switching your business electricity is as easy as flicking on a light switch. When you enter our nifty comparison engine, we'll ask you for your business address and permission to look up your meter number. Then you will be able to view live business electricity rates online. 
If you need any added services, such as meter installation or bespoke tariffs for large consumption - we can arrange that too. 
Once you have chosen your new electricity tariff and you are happy with the price, your account manager will start the switch and keep you informed throughout the transition. We'll aim to have you switched over to your new supplier within 5-working days. 
Business Electricity Tariffs
Like going down the aisle in your local supermarket, you can find a range of options and; find the right tariff when comparing with us. Here are some of the most popular business electricity tariffs:  
Fixed-rate Tariff
Budget-friendly and easy to manage. This is one of the most popular tariffs as businesses hunting for a deal can lock in the price they find for multiple years. Unit prices will stay the same each month throughout the contract. Even when wholesale prices increase, you're protected.
Variable-rate Tariff
On the slip side, a variable tariff is for those businesses that enjoy flexibility. The price paid per kWh will move up and down each month depending on how wholesale prices are performing. Although a risk,  many enjoy the flexibility of being able to cancel
Green/Renewable Tariff
There's been a surge in the popularity of tariffs that offer 100% renewable electricity. Despite many thinking that these deals are much more expensive, many suppliers are offering renewable electricity as standard or pricing dedicated tariffs much more competitively.
Business Electricity Prices Per kWh
If you have got this far down the page and haven't seen live prices for your business, you may be wondering how much your business electricity quote might be. 
We've decided to gather some average electricity costs per kWh by size of business. This will give you a rough idea of what to expect when you go through our comparison engine (did we mention you'll be able to see live prices in just 60 seconds?). 
Business Electricity Rates By Business Size 
Of course, these are averages; and business electricity rates change daily - so snap up a good deal when you see it! For the most accurate quote, you'll want to see live rates.
|   | Unit Price/kWh | Standing Charge | Annual Price (£) |
| --- | --- | --- | --- |
| Micro Businesses | 32.50p | 75.10p | £1,897.02 |
| Small Businesses | 32.10p | 93.70p | £5,159.12 |
| Medium Businesses | 32.40p | 125.80p | £8,561.40 |
| Large Businesses | 32.00p | 166.70p | £16,611.63 |
| Very Large Businesses | 32.00p | 168.90p | £32,569.66 |
*updated May 2023. 
What Are The Typical kWh Prices For Different Industries?
The type of industry your business operates in will impact consumption. This translates to higher rates per kWh.
Here are some examples of prices for different types of businesses:
| Business Type | Unit Price (p/per kWh) | Estimated Usage (kWh) | Annual Cost (£) |
| --- | --- | --- | --- |
| Coffee shop/ Newsagent | 30.88p | 5,000  | £1,659 |
| Hair salon | 31.16p | 15,000 | £4,838 |
| Small farm | 31.41p | 50,000 | £15,609 |
| Restaurant | 31.16p | 25,000 | £8,032 |
What Affects The Market Price Of Electricity?
 Your business electricity rates will be impacted by market activity. These factors are:
Demand - A rise in demand can lead to an increase in wholesale electricity costs. 
Weather - The weather can cause an increase or decrease in the demand for electricity. People will use lighting and heating more in cold and dark weather. 
Commodities - The cost of the commodities that create electricity has a significant impact on market costs. The main commodities are fossil fuels such as gas, coal and oil.
Carbon Cost - Generators powered by fossil fuels are required to purchase a certificate for each tonne of CO2 created. This serves as a penalty for not using renewable sources such as solar, wind or combined heat and power.
Delivery Constraints - Any outages, maintenance or connection issues can affect electricity market costs.
Looking for the cheapest business electricity supplier? Although this crown changes almost daily, we wanted to provide you with a snapshot of some of the supplier prices you may see when you compare with us. If you would like an accurate quote, simply compare now. It takes just 60 seconds. 
This table is an example of businesses with a business with 25,000 kWh of annual electricity usage for a 2-year fixed-rate deal. These prices are from a snapshot from March 2023. 
Ready to find out who today's cheapest business electricity supplier is? Click here to compare prices.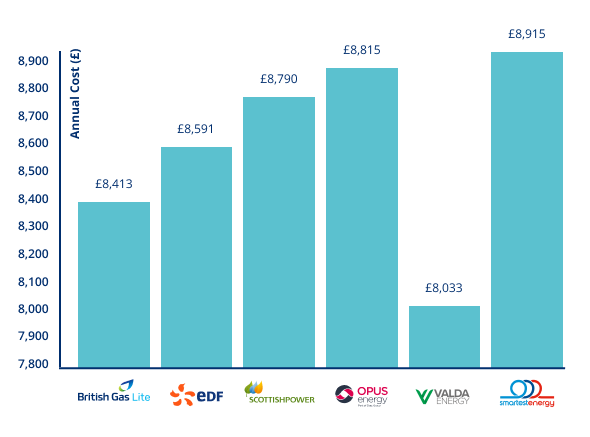 How To Reduce The Costs Of Business Electricity
Want to save even more on your business electricity bills? Look no further. 
Saving money is important for all businesses. When it comes to electricity, there are simple steps you can take to reduce your usage.
Walk around the building to see if doors are being left open, or if old energy-intensive light bulbs are being used - switch to LED. These are cost-effective remedies. 
Install motion sensor lights. 
Opt for a smart meter so you can monitor your usage more closely. 
Use management software to analyse trends and peak demand. 
Move furniture away from radiators and other heat sources. 
Turn equipment off overnight (if applicable). 
Some simple changes alongside switching to a more suitable electricity tariff, can help bring those bills down even further. 
Small Business Electricity Rates 
It can be difficult to find time to take care of things like switching electricity. That's why we developed our Self Service platform after chatting with some customers. The modern small business is too busy looking after their customers during office hours, so we have built a comparison engine that allows customers to switch anytime 24-7, 365 days a year. 
Large Business Electricity Rates
Larger business electricity consumption needs a more tailored approach. Whether you need half-hourly meters installed or multi-site, we'll find the right solution. Our specialists will work with you to understand your requirements before shaping the perfect tariff. 
Business Electricity FAQs - You Asked, We Answered!
What Is A Half-Hourly Meter?

Half-hourly meters are mandatory for large consumption businesses with a maximum demand of 100 kWh or greater in a 30-minute period. 

These meters submit energy readings to your supplier every 30 minutes to ensure you're not billed based on estimated usage.

What Is A Multi-Site Meter?

Got multiple business addresses? A multi-site meter allows owners to consolidate multiple buildings onto one contract and bill. This makes managing electricity usage for several sites much easier.

Can I Get A No Standing Charge Tariff?

Some suppliers offer no standing charge tariffs. Whilst on the surface, tariffs with no standing charge may seem very appealing, suppliers will usually offset this by charging a higher unit price. Businesses using a small amount of electricity could benefit from this type of tariff.

How Long Does It Take To Switch Suppliers?

We aim to switch our customers to their new supplier within 5 working days of approval. 

Is Electricity Cheaper At Night?

Electricity is cheaper at night if an Economy 7 or 10 tariffs is selected. These are often called multi-rate meters. There could be multiple unit rates set by the provider for day, night and weekends. 

What Is A Micro Business?

There are multiple benefits to being classed as a micro business including a requirement to receive a renewal notice. Businesses are classed as 'micro' if they fit into one of these categories: 

Employs less than 10-people and has an annual turnover of no more than €2 million
Uses less than 100,000 kWh of electricity annually 

Will My Electricity Supply Be Cut Off When Switching?

No, you won't lose your business electricity supply during the switch. We will liaise with your new and old supplier to ensure your switch can take place seamlessly.

What Is The Climate Change Levy (CCL)?

CCL is an environmental tax used to encourage businesses to become more energy efficient. Any UK business can join the Climate Change Agreement Scheme to pay reduced rates. 

The 2023 CCL rate for electricity is set at 0.00775 per kWh.