Overview
The BusinessEnergy.com team strive to comply with the World Wide Web Consortium (W3C) Web Content Accessibility Guidelines to ensure all everyone can access all usable content, functionality, and benefits available.
---
Website Architecture
This section details the design structure used to develop the website to improve user experience and accessibility of all abilities and disabilities.
General Accessibility
The site adheres to the following rules using the guidelines outlined above:
Strong colour contrasts between content, headings and navigation are used to clearly mark each section.
links to other pages describe the linking page rather than using "more information" or "click here".
The cascading style sheets use percentages rather than fixed font sizes to aid increasing screen sizes without affecting the design.
Each page has a heading that describes what's on that page.
All images utilise alternative text so users can view in a text browser.
The navigation allows people using assistive technologies to navigate via spoken text or only using the keyboard.
No pages use Adobe Flash for viewing multimedia applications.
If you have any feedback, please use our contact form.
Browser and Operating Systems
Browser Support
The website is designed to be totally accessible to all browsers, including the following:
Internet Explorer 8.0 and above.
Google Chrome 40.0 and above.
Firefox 30.0 and above.
Safari 8.0 and above.
Android and Safari Mobile 5.0 and above.
Microsoft Edge.
Operating Systems
The website supports all operating systems available, including:
Microsoft Windows XP, 7, 8 and 10
Max OS X
Blackberry, Android, and iPhone
Browsers normally upgrade themselves upon starting up your computer. Newer versions are usually faster, more secure, and offer a better experience.
Drop-Down Menu Selection
The main navigation uses a drop-down menu system to reach child pages. Selecting a category option displays items within that section.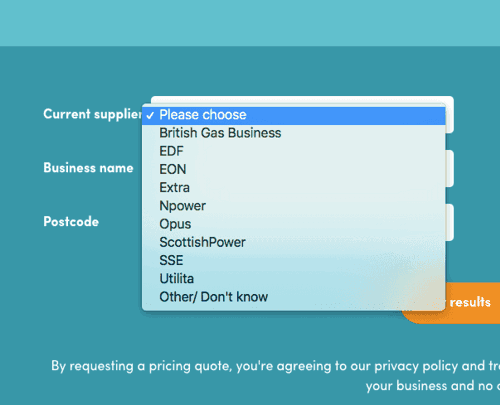 The quote form displayed uses a drop-down selection box for suppliers similar to the one above. Simply click on your selection.
The website does not use pop-up screens, interstitials, or external advertising to distract from the main browsing experience.