Restaurant Energy Efficiency Guide
Energy efficiency is vital in every business. For restaurants and other catering businesses, this is especially the case. The catering industry's estimated overall spend is approximately £400 million each year [1]!
Around 40% of a restaurant's total energy usage goes towards the preparation and storage of food. This, along with high heating and lighting costs, makes it all the more important for restaurant owners to ensure that they reduce energy wastage to help keep their bills as low as possible. With large amounts of energy used, restaurant energy efficiency is important.
If you run a restaurant and you're looking for ways to save energy, the following informative guide will provide you with all the help and advice you need.
Restaurant Energy Consumption
The average restaurant's energy consumption can be broken down as 60% electricity and 40% natural gas.
This can be further broken down as follows.
Electricity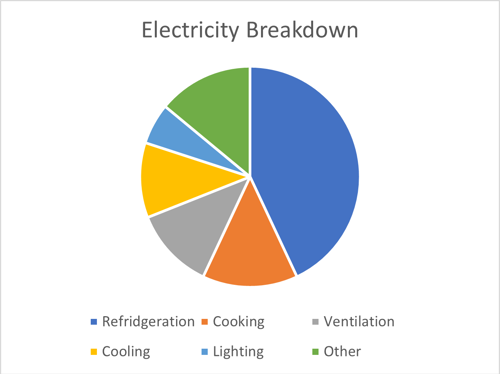 Refrigeration – 43%
Cooking – 14%
Ventilation – 12%
Cooling – 11%
Lighting – 6%
Other – 14%


Gas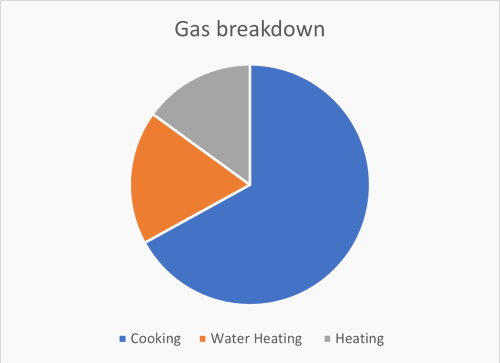 Cooking – 67%
Water Heating – 18%
Heating – 15%
As you can see, a variety of factors make up a restaurant's electricity and gas consumption; with cooking, refrigeration and heating being the largest areas for energy usage.
To increase your restaurant's energy efficiency, you should target each area and ensure that energy is only being used when necessary.
How to Enhance Your Restaurant's Energy Efficiency
Taking steps to improve your restaurant's energy efficiency can not only help to reduce your business overheads and help you save, but it could also lower your business' carbon footprint.
Sustainability is a key focus for businesses and individuals worldwide, as we continue our attempts to combat climate change. By prioritising energy efficiency, you could improve your brand reputation and stand out amongst your competitors!
Top recommendations for improving energy efficiency in your restaurant:
Equipment
Investing in energy efficient catering equipment could significantly reduce your energy consumption. Always aim to purchase products that have high energy label ratings, as these will help you save energy.
For example, induction hobs use approximately 50% less energy than their gas or electric versions. They're also designed to heat up quickly and they emit less heat during operation, so you could also save on ventilation costs.
Additionally, modern deep fat fryers use as much as 50% less energy than older models. They're manufactured to heat up quickly, and they can filter oil to maintain high efficiency.
You could also reduce your energy consumption by investing in steam ovens. With innovative, energy-saving technology such as triple-glazed viewing doors and heat recirculation, these systems could cut costs by 40% [1].
Refrigeration
As aforementioned, restaurants tend to spend a significant amount of money on refrigerating goods.
Simple measures such as placing your fridges and freezers in the coldest part of your kitchen could help you save. When these cooling systems are located near heating systems like ovens and hobs, they have to use more energy to maintain cool temperatures.
Additionally, you could reduce refrigeration costs by investing in AA++ energy efficient rated systems. You should also ensure that your equipment's condensers and evaporators are kept clean and keep fridge and freezer doors closed as much as possible.
Furthermore, we recommend that you defrost and clean your fridges regularly and check that all the seals on your cooling equipment and cold rooms are working effectively.
Heating, ventilation and air-conditioning
Zoned heating is often recommended in restaurants as it helps to cut heating costs without compromising the comfort of your customers and employees. This method allows you to reduce the heating settings in certain areas of your business, whilst maintaining ideal temperatures elsewhere.
You should also aim to set your thermostat to the lowest comfortable setting and match your timer to your hours of use to save costs. Investing in a smart thermostat could help you with this. These intelligent devices are designed to provide you with enhanced control over your restaurant's heating.
We recommend that you get all your heating, ventilation and air-conditioning (where applicable) serviced regularly to prevent costly breakdowns and malfunctions. You should also turn off kitchen extraction hoods when they are not in use.
Bonus tip: Be sure to keep windows and doors shut in locations that require more heat, such as customer seating areas.
Lighting
To increase energy efficiency and lower your restaurant's overheads, we highly recommend investing in energy saving LED lightbulbs. LEDs use 90% less energy than standard incandescent bulbs and they are longer-lasting, so you can save on purchase costs.
As well as investing in energy efficient bulbs, you could also install movement sensors to ensure that lighting is not used in unoccupied rooms. Additionally, encourage staff to make use of natural light and ensure that all lights are switched off when they aren't needed.
Water
Around 18% of your restaurant's gas bill is likely to be spent on heating water. To reduce these costs, you could implement simple measures such as insulating your hot water pipes and cylinder to keep water warm for longer periods.
You could also invest in tap aerators or spray water taps to reduce water usage. Additionally, we recommend that you fix leaking or dripping taps as soon as possible to lower wastage. A dripping tap could waste over 5,000 litres of water per year [2]!
Maintenance
Maintenance in all areas of your restaurant is key to reducing energy usage and cutting costs. For example, organising an annual service for your boiler can help to keep it functioning efficiently and prolong its working life.
We also recommend that you keep all areas within your restaurant clean, especially around your appliances. Not only can this help to make the place more hygienic, but it could also help to prevent appliance faults or breakdowns caused by dust, grime or other debris.
Switching Suppliers to Lower Your Bills
The most effective way to reduce your restaurant's overheads is to switch energy suppliers and get a cheaper deal for your business gas and electricity.
None of the recommendations made above will work to their full potential if you are on an unsuitable energy tariff.
Here at Business Energy, we can help you find the best energy contract for your business' needs. Simply enter your restaurant's details into our free comparison tool and within just a few moments, you'll be provided with a quote for several suitable tariffs.
Once you've selected your new tariff, our energy experts will manage your switch and ensure that everything goes ahead smoothly.
Get in touch with us today.
[1] https://smarterbusiness.co.uk/resources/your-restaurant-energy-efficiency-guide/
[2] https://energysavingtrust.org.uk/why-water-efficiency-matters/