What are MPAN and MPRN numbers?
What Are MPAN & MPRN Numbers?
Created:28/01/2021
Updated: 09/11/2023
Compare Prices
If you're thinking about switching your business energy supplier, you may be required to provide your new supplier with your MPAN and MPRN numbers.
In this guide, we'll take you through what these numbers are for and where you can locate them.
What Is An MPAN Number?
A Meter Point Administration Number (MPAN), also known as an Electricity Supply Number, is a unique number given to the electricity meter in your business premises. Energy suppliers use this number to decide the rates for your electricity.
Your MPAN number will consist of 21 digits and will usually look similar to the image below: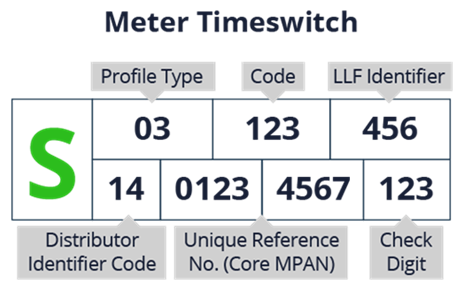 What Is An MPRN number?
A Meter Point Reference Number (MPRN), also recognised as your Gas Supply Number, is a unique number for your building's gas meter.
Your MPRN number will feature 6-10 numbers in total; energy companies will use these figures to identify your gas meter.
If your MPRN number begins with 74 or 75, your building's gas is likely supplied by an independent gas transporter. If this is the case, energy suppliers may be charging you more expensive rates. To get a better deal for your business gas supply, compare gas prices with us today.
Where Can I Locate My Business MPAN & MPRN numbers?
Your business' MPAN number should be located at the top left or bottom right corner of your recent electricity bill. It is usually displayed in seven small boxes and features a capital 'S' at the beginning.
You can typically find your business' MPRN number at the top or bottom of your gas bill.
How Do I Find My Business' MPAN & MPRN Numbers Without a Recent Bill?
If you don't have your recent gas and electricity bill to hand, don't fret, there are other ways in which you can find out your MPAN and MPRN numbers.
To find out your MPAN number, give your electricity supplier a call and ask them for this information. If you're unsure who your electricity supplier is, you can use the Energy Networks Association postcode search tool to find your network provider; they should be able to provide you with the name of your electricity supplier.
To find out your MPRN number without a recent gas bill, you can enter your postcode into the Find My Supplier website. Alternatively, you could get in touch with the Meter Number Helpline on 0870 608 1524.
Why Does My Business Need Energy Meter Numbers?
MPAN and MPRN numbers are unique numbers assigned to your business' property. They are therefore the easiest way for energy suppliers to identify your building.
If you decide to switch suppliers, you'll be required to provide your MPAN and MPRN numbers. This is so your new supplier can confirm that they are taking over the right energy supply. So ultimately, energy meter numbers help to organise different buildings' energy supply.
You should bear in mind that if you move into a new property, you may need to provide your supplier with both your old and new energy meter numbers as part of the moving process.
Understanding Your Energy Meter Numbers
Commercial properties and domestic residences have different energy meters.
Below, you can find the different profile classes for energy meters.
| | |
| --- | --- |
| 00 | Half Hourly |
| 01 | Domestic Unrestricted |
| 02 | Domestic Economy 7 |
| 03 | Non-Domestic Unrestricted |
| 04 | Non-Domestic Economy 7 |
| 05-08 | Non-Domestic Maximum Demand |
Commercial businesses tend to have profile classes of 00,03,04, 05, 06, 07 and 08.
The type of meter required for your business will depend on your level of energy consumption. For example, half-hourly meters are suitable for business that use 100kW of energy or more per 30 minutes. Meanwhile, Economy 7 meters are best suited to companies that use energy during off-peak hours.
Commercial clients in profile Classes of 05-08 are recognised as Maximum Demand (MD) customers. These businesses require the highest amount of energy over a certain period.
Registers are attached to the meter systems of MD customers so that they can be supplied with the maximum demand of energy for a given period.
A Peak Load Factor (LF) refers to the ratio of consumption (in kWh) during a specific period compared to the number of kWh that would have been provided if the maximum demand were maintained throughout that period. In simpler terms, the Peak Load Factor provides customers with information on how much energy they could have used at maximum capacity.
Meter Timeswitch Code
The Meter Timeswitch Code conveys the amount of meter reads and dials your electricity meter has. It is also used to indicate what times during the day they will operate.
This code will also display whether your meter has two registers; one which records daytime consumption, and another which records consumption during the night.
What Causes Line Loss?
It is estimated that 7% of all generated electricity is lost during transmission. This is known as Line Loss and it occurs during the process of electricity being supplied to your meter.
There can be several causes of line loss, such as revenue meter inaccuracy or un-metered errors (like street lights), or energy theft.
Line loss can also be caused by resistance in the wires that transfer electricity. Consequently, the further your business premises is located from a distribution centre, the more expensive your electricity tends to be. Thus, longer distance means longer wires, and this leads to more resistance.
The term Line Loss Factor is used when discussing the expected costs charged by the distribution company to your supplier for using your area's network and cables. Additionally, it includes information about the charges incurred due to the energy lost when electricity is supplied to your meter.
What Is a Distributor Identifier Code?
A Distributor Identifier Code (or Distributor ID) can be described as a unique number that is assigned to a local distribution company.
Distribution companies are responsible for the distribution system, the wiring and the infrastructure which delivers electricity to your meter.
In the table below, we provide a list of Distributor ID's and highlight the companies that they represent.
| | | |
| --- | --- | --- |
| D | Name | Operator |
| 10 | Eastern England | UK Power Networks |
| 11 | East Midlands | Western Power Distribution |
| 12 | London | UK Power Networks |
| 13 | Merseyside and Northern Wales | ScottishPower |
| 14 | West Midlands | Western Power Distribution |
| 15 | North Eastern England | Northern Power Grid |
| 16 | North Western England | Electricity North West |
| 17 | Northern Scotland | SSE Power Distribution |
| 18 | Southern Scotland | ScottishPower |
| 19 | South Eastern England | UK Power Networks |
| 20 | Southern England | SSE Power Distribution |
| 21 | Southern Wales | Western Power Distribution |
| 22 | South Western England | Western Power Distribution |
| 23 | Yorkshire | Northern Power Grid |
| 27 | Unmetered Supply | Unmetered Supply |
MPAN Core (Meter Point ID Number)
Your business will have a core MPAN number (Meter Point ID number). This is a unique code assigned to your meter and it takes the form of the final 13 digits of your MPAN number. These figures identify an exit point. An MPAN core number consists of the 2-digit Distributor ID, a unique 8-digit identifier number, 2 further digits and lastly, the check digit.
What Is a Check Digit?
The final digit in your building's MPAN number is known as the Check Digit. This allows other systems to validate your MPAN.
Switch Business Energy Suppliers and Reduce Your Bills With BusinessEnergy.com
Are you looking to reduce your business energy bills? If so, BusinessEnergy.com can provide you with all the help and advice you need to find a cheaper energy tariff. With our services, you can compare the best gas and electricity tariffs available on the market.
Once you've selected your chosen tariffs, we'll guide you through the switching process. Having your MPAN and MPRN numbers will help make everything go ahead smoothly.