Keep Energy Costs Low
For Your Healthcare Business
If you are paying high rates on energy for your healthcare business, we can help.
Switching to a cheaper business energy tariff can save you hundreds every year.
Reduce your healthcare business costs with our exclusive 2023 energy deals!
Healthcare buildings face large increases in their business energy every year. Care homes, opticians and dentists need varied levels of gas and electricity. However, they are often on a one-size-fits-all tariff. This presents several issues, and they are left overpaying for their energy.
Buildings have different requirements. Spaces need adequately heated and ventilated or house special equipment. Not matching these needs has an impact on health services. It also has an impact on bills, but it doesn't need to.
How To Save On Energy Bills In Healthcare?
Many healthcare services are open 24 hours a day. Whilst clinics, dentists and opticians, tend to have long operating hours and higher energy use. These factors can have a huge impact on your energy bills. Being on the correct tariff is crucial to maximising savings. For example, healthcare facilities open 24 hours per day may benefit from Economy 7 or 10 tariffs. This means that these facilities will pay a lower rate during off-peak hours. This can offer large savings if large amounts of energy are being used during the night, or at weekends.
As stated by the Carbon Trust, the healthcare sector spends over £400 million a year on energy. It has been estimated that around 30% of this energy is wasted. Healthcare facilities could make significant savings by increasing their energy efficiency.
A great deal of healthcare providers overpay for their gas and electricity. These costly overheads get passed on to their service users. This lowers available funds for development and investment.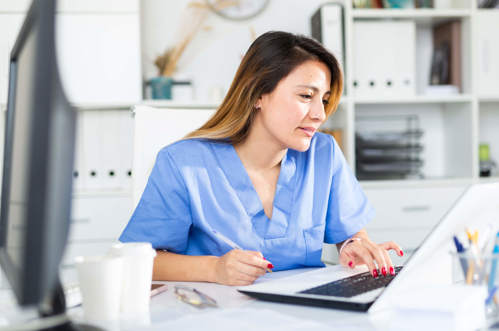 BusinessEnergy.com offers a range of unique tariffs to businesses in the healthcare sector. Our comparison service is designed to find some of the best energy deals available. Our experts can provide advice on which tariffs would better suit your business.
Why Choose Business Energy For Your Healthcare Energy Switch?
Quick and reliable service
Our comparison tool can find the best deal for your business energy in a matter of seconds.
We'll manage your switch
Our expert team will ensure that your supplier switch goes seamlessly.
We're rated 'excellent' on Trustpilot
Over 10,000 customers have reviewed our service.
You will have access to the best rates
Energy providers frequently introduce new contracts. When you switch suppliers with us, we'll keep in touch to update you on the cheapest deals.
Helpful energy-saving advice
Visit our content hub for helpful advice on energy saving.
Track the progress of your switch online
Use our online 'Track My Switch' tool to stay up to date on the progress of your switch.
Energy Saving Tips For Healthcare
You must keep track of your energy consumption and make changes to boost your efficiency. Not only could this help to reduce costs, but it can also lower your carbon footprint.
Heating Use In Healthcare
In care homes, heating can account for around 70% of the overall energy use. Old and vulnerable residents tend to be more sensitive to the cold, so temperatures are often set high. This coupled with 24-hour running times can lead to high energy bills.
There are multiple ways healthcare services can manage heating costs. It can be done without compromising the comfort and safety of residents and service users. Examples include:
Insulation
Draught-proofing
Upgrading appliances such as boilers, heaters and radiators
Turning thermostats down by as low as 1° – this can save you up to £60 per year.
Using central heating instead of costly electric heaters
Zoned heating
Double glazing
Investing in areas such as maintenance and efficiency can help to cut costs. For example, ensuring that your boiler receives an annual service can improve efficiency by up to 15%. Replacing traditional incandescent bulbs with LED lighting can help to lower energy costs.
Changing Your Energy Consumption
An energy audit can help you understand your energy usage and allow you to flag inefficiencies. All you have to do is take some time to think about how your business uses energy.
For instance, do you leave your appliances on standby or leave them on overnight? You're likely to be wasting a significant amount of energy. Switching equipment and appliances off overnight can reduce your energy bills.
If you'd like to improve your business's green credentials, consider selecting a renewable energy provider. Investing in a renewable energy source will reduce your reliance on expensive fossil fuels. You can invest in solar panels or wind turbines (if you have the space).
You can even use this to generate extra income through the Feed-In-Tariff scheme.
Switch Healthcare Energy Suppliers In One Place With Business Energy
At Business Energy, we aim to ensure that healthcare providers have access to cheap business energy deals. You can feel confident in knowing that you have the most suitable tariff for your needs.
Energy Saving Advice For Care Homes
The population of Great Britain is ageing. There are more people over the age of 60 than those under 18. With the end of the extended family unit, many of the country's older people are moving into care and nursing homes.
This puts pressure on the care home system. Many of them report that they are struggling with the costs of housing and caring for so many older people.
How can care and nursing homes save money? When caring for sick and older people, there are no corners that you can cut. As a result, the savings you can make are limited to energy. At Business Energy, we specialise in helping save money on energy for care homes.
Where Do Care Homes Use Their Energy?
Care homes use a lot of energy. Heating bills will often be high in order to offer residents a warmer environment. This means that many care homes use as much as 70% of their energy on space heating. 12% of energy for care homes goes on water heating. Only around 1 or 2% goes on catering or office equipment. This means that energy represents the only clear area for savings in care and nursing homes.
How Can Care Homes Reduce Their Energy Usage?
How To Save On Heating In A Care Home
How old is your boiler? Many care homes have old and non-energy-efficient boilers. Replacing or maintaining your boiler can help save on your business energy.
Central heating – lots of care homes still run on individual electric heaters. Moving to central heating can reduce your bills and your carbon footprint.
Radiators – Low water radiators can save money on both heating and water use.
How Can Insulation Help To Save Money In A Care Home?
Any business that has high energy demands should have effective insulation. This could be in walls, roofs or cavities. Poor insulation wastes money – especially when you use a lot of energy.
Maintain and top up your insulation. Insulation needs a degree of care to stay effective.
Keep heat in the building by keeping windows closed. A window left open overnight uses as much energy as driving a car 35 miles.
How To Save On Water Bills In A Care Home
Water-saving measures can save you significantly. Replace dripping taps and leaking toilet cisterns – these can waste huge amounts in a large care home.
Encourage energy-efficient practices. With 12% of a care home's energy going on heating water, consider suggesting showers rather than baths for residents.
How To Save On Lighting In A Care Home
Don't leave lights running unnecessarily. Install automatic lights, so you don't light an empty room.
Switch your bulbs to LEDs. These use far less energy than halogen bulbs and can last much longer.
Is Your Care Home Not For Profit?
If your care home is run as a non-profit or charitable organisation, you could pay a reduced rate of VAT on your energy bills. Unfortunately, many charities are still treated as small businesses by their energy supplier. If you're currently paying the full rate of VAT at 20%, you should contact your energy supplier, as you could be entitled to a reduction in VAT to 5%. You will also be exempt from paying the Climate Change Levy (CCL) which could see your energy bills reduced further.
FAQs
How long does it take to switch healthcare business energy suppliers?

The process for switching business energy suppliers can take longer than a domestic energy supplier switch.

On average, a business supplier switch can take around 4-6 weeks. Bear in mind that timescales can vary.

Can I compare energy suppliers for more than one location?

Healthcare businesses with multiple locations can consolidate bills with a multi-site energy tariff.

This way, you can manage all your sites through one account and keep track of your energy consumption and costs.

We offer expert advice on multi-site energy contracts and can help you find the best deal for your business.
Find the cheapest business gas deals and work out how much you could save by comparing gas suppliers with Business Energy.
Looking to save on your electricity bills? Use our services to compare electricity prices and find a cheaper deal.
Were you aware that you can switch water suppliers? Business Energy's experts can help you find a suitable new water supplier to help you reduce your bills.