Keep Energy Costs Low
for Your Catering Business
If you work in the catering or hospitality industry and you're looking for
ways to save energy, the following informative guide will provide you
with all the help and advice you need.
Reduce your costs with our exclusive 2023 energy deals! 
The catering industry can be competitive and running costs can be expensive. Restaurants and other catering businesses rely heavily on gas and electricity, leading to high overheads.
One of the best ways to cut costs is to switch energy suppliers. We understand how hectic the catering industry can be. It leads to having little to no time to take energy management. That's why we make it easy for you to switch energy suppliers and get a cheaper energy deal.
Reduce Your Catering Businesses Energy Bills
It's estimated that catering businesses waste as much as 60% of energy in their kitchens, according to Opus Energy.
Carbon Trust estimates catering businesses can reduce their energy bills by up to 25% by becoming energy-efficient. Taking a few minutes out of the day every six months to compare energy will avoid overcharging. Many catering companies fall into the out-of-contract rates trap. This is very detrimental to a business using a high amount of gas and electricity.
You'll gain access to great business energy tariffs using our comparison tool. You will also get a range of exclusive deals not available directly from suppliers. You will be able to track the switch online.
How To Improve Energy Efficiency In Commercial Kitchens
Taking steps to improve your restaurant's energy efficiency can not only help to reduce your business overheads and help you save, but it could also lower your business' carbon footprint.
Sustainability is a key focus for businesses and individuals worldwide, as we continue our attempts to combat climate change. By prioritising energy efficiency, you could improve your brand reputation and stand out amongst your competitors!
The best way to start to identify where you can make energy savings is to do a brief energy audit of your kitchen. This might sound like a lot of work, but it's quite a simple process. It just means taking some time to map where power is typically used in your kitchen and when and how it is wasted.
Asking staff to contribute to this process will ensure that you focus on the areas where you can make the most savings.
You should also review your recent business electricity and gas bills, to get a measure of how much energy you are currently using. As you start to implement energy saving measures, you can then track the savings that you make.
Once you have a plan, make sure it is communicated to your staff and targets are set. Encourage staff to make sure of timers and label equipment that can be unplugged when not in use to reduce so-called 'vampire power'.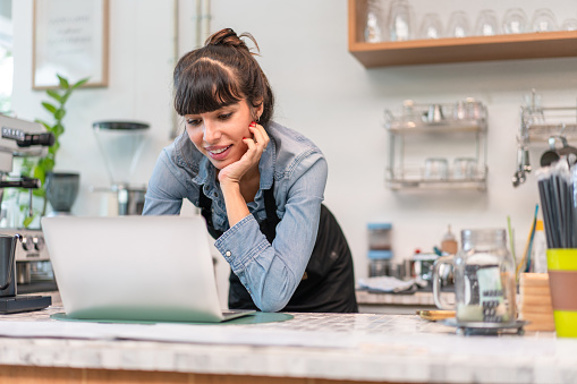 Many appliances continue to draw electricity from the socket even when not in use. Provide training and signage in appropriate places to prompt staff to adhere to your new processes.
Of course, ensuring that you are on the right business energy tariff is an essential component for keeping your commercial energy bills low. If you haven't switched in the last twelve months, you are likely overpaying for the energy your business uses.
Business Energy can help you switch to an affordable and green energy tariff. You can start your switch by comparing energy prices with our experts today.
How Much Energy Does A Restaurant Use?
Energy efficiency is vital in every business. For restaurants and other catering businesses, this is especially the case. According to a report published by The Carbon Trust, the UK catering industry's estimated overall energy spend is approximately £400 million each year!
More than 40% of a restaurant's total energy usage goes towards the preparation and storage of food. This, along with high heating and lighting costs, makes it all the more important for restaurant owners to ensure that they reduce energy wastage to help keep their bills as low as possible. With large amounts of energy used, restaurant energy efficiency is important.
The Carbon Trust also revealed that the average catering business' energy consumption can be broken down as 20% electricity and 80% gas or oil - although for restaurants this split is closer to 60% electricity and 40% gas.
This restaurant energy usage can be further broken down as follows:
Electricity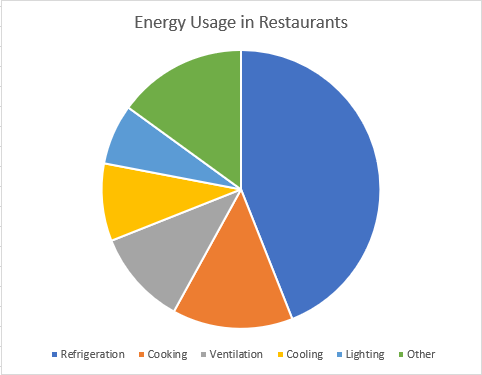 Refrigeration – 44%
Cooking – 14%
Ventilation – 11%
Cooling – 9%
Lighting – 7%
Other – 15%
Gas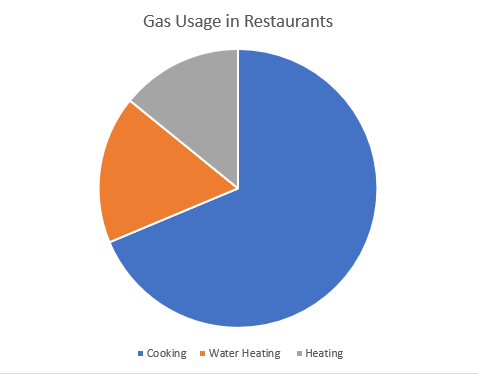 Cooking – 68%
Water Heating – 17%
Heating – 14%
As you can see, a variety of factors make up a restaurant's electricity and gas consumption; with cooking, refrigeration and heating being the largest areas for energy usage.
To increase your restaurant's energy efficiency, you should target each area and ensure that energy is only being used when necessary.
Catering Energy FAQs
How Long Does it Take to Switch Catering Business Energy Suppliers?

When switching an energy contract for a catering business the process usually takes around 5 days to be completed.

Can I Compare Energy Suppliers for More Than One Location?

If your catering business has more than one location, you may be best suited to a multi-site energy deal.

 

You will be able to consolidate your business meters and bills into one account. This makes them easier to keep track of and manage.

 

Our energy experts will be able to advise you on multi-site contracts. We will help you find the best deal for your company.

Will Switching My Energy Provider Affect My Power Supply?

No, switching suppliers will not impact your gas or electricity supply in any way. Your power supply will continue as normal during and after your supplier switch.

How To Save Money On Cleaning And Maintenance In Your Restaurant/ Commercial Kitchen

For Restaurants

Maintenance in all areas of your restaurant is key to reducing energy usage and cutting costs. For example, organising an annual service for your boiler can help to keep it functioning efficiently and prolong its working life.

We also recommend that you keep all areas within your restaurant clean, especially around your appliances. Not only can this help to make the place more hygienic, but it could also help to prevent appliance faults or breakdowns caused by dust, grime or other debris.

 

For Commercial Kitchens

Investment in new equipment for a commercial kitchen is not the only way to reduce energy consumption. Making sure your commercial kitchen is clean and equipment is well-maintained impacts efficiency, especially in and around ovens and condensing coils on refrigerators.

If someone reports a leak or damage to an appliance which will impact efficiency, make sure this is addressed as quickly as possible. For example, if there are complaints that hot water is slow this may be a sign of problems with your boiler or pipes.

Investing in an annual service of the heating system can improve efficiency by up to 15%. Another common problem that is often overlooked is wear and tear to refrigerator and freezer doors. If they are not closing properly, they need to work harder to keep food cold. Repairing them is often inexpensive and will result in savings on your electricity bills.

Ask your kitchen staff to reflect on the layout of your kitchen. For instance, if the freezers are next to the cookers in your kitchen, they will need to work harder and therefore use more energy to keep food at a cool temperature. Moving them to a less hot location in the kitchen can therefore reduce your electricity bills.

How Can I Save Money On Water In My Restaurant/ Commercial Kitchen?

For Restaurants

Around 17% of your restaurant's gas bill is likely to be spent on heating water. To reduce these costs, you could implement simple measures such as insulating your hot water pipes and cylinder to keep water warm for longer periods.

You could also invest in tap aerators or spray water taps to reduce water usage. Additionally, we recommend that you fix leaking or dripping taps as soon as possible to lower wastage. A dripping tap could waste over 5,000 litres of water per year!

For Commercial Kitchens

As well as energy, water is another key waste point in a commercial kitchen which also has a cost for your business. Investing in water-saving devices over taps can reduce water draining away without being used.

As important though is to instigate behavioural changes in your staff. For example, dishwashers use a lot of water, as well as electricity. If staff ensure they are full before they are switched, you will see your energy bills fall. Equally, ensuring staff are mindful of water waste as they look to defrost food, or wash dishes by hand can make a big difference. Putting up signs to remind staff of key changes you would like to see will hopefully keep them motivated.

Finding a great value commercial water contract is another way to reduce your water bills.

Is My Lighting Energy Efficient Enough?

To increase energy efficiency and lower your restaurant's overheads, we highly recommend investing in energy-saving LED lightbulbs. LEDs use 90% less energy than standard incandescent bulbs and they are longer-lasting, so you can save on purchase costs.

As well as investing in energy-efficient bulbs, you could also install movement sensors to ensure that lighting is not used in unoccupied rooms. Additionally, encourage staff to make use of natural light and ensure that all lights are switched off when they aren't needed.

How To Control The Heating, Ventilation And Air-Conditioning In A Restaurant Or Commercial Kitchen

Keeping the temperature bearable for staff is an ongoing problem for commercial kitchens. Premises that feature poor ventilation and insulation can create bigger spending on your energy bill. Of course, investment in improved ventilation systems will reduce this, but in rented premises, your options may be limited.

Investing in smart energy controls can at least make sure that your staff are able to respond to climatic changes in real time and focus on specific spaces, thereby improving efficiency.

Zoned heating is often recommended in restaurants as it helps to cut heating costs without compromising the comfort of your customers and employees. This method allows you to reduce the heating settings in certain areas of your business, whilst maintaining ideal temperatures elsewhere.

You should also aim to set your thermostat to the lowest comfortable setting and match your timer to your hours of use to save costs. Investing in a smart thermostat could help you with this. These intelligent devices are designed to provide you with enhanced control over your restaurant's heating.

We recommend that you get all your heating, ventilation and air-conditioning (where applicable) serviced regularly to prevent costly breakdowns and malfunctions. You should also turn off kitchen extraction hoods when they are not in use.

Bonus tip: Be sure to keep windows and doors shut in locations that require more heat, such as customer seating areas.

Where Is The Best Place To Put The Refrigerator?

As aforementioned, restaurants tend to spend a significant amount of money on refrigerating goods.

Simple measures such as placing your fridges and freezers in the coldest part of your kitchen could help you save. When these cooling systems are located near heating systems like ovens and hobs, they have to use more energy to maintain cool temperatures.

Additionally, you could reduce refrigeration costs by investing in AA++ energy-efficient rated systems. You should also ensure that your equipment's condensers and evaporators are kept clean and keep fridge and freezer doors closed as much as possible.

Furthermore, we recommend that you defrost and clean your fridges regularly and check that all the seals on your cooling equipment and cold rooms are working effectively.

Is My Kitchen Equipment Energy Efficient?

For Restaurants

Investing in energy-efficient catering equipment could significantly reduce your energy consumption. Always aim to purchase products that have a high energy label rating, as these will help you save energy.

For example, induction hobs use approximately 50% less energy than their gas or electric versions. They're also designed to heat up quickly and they emit less heat during operation, so you could also save on ventilation costs.

Additionally, modern deep-fat fryers use as much as 50% less energy than older models. They're manufactured to heat up quickly, and they can filter oil to maintain high efficiency.

You could also reduce your energy consumption by investing in steam ovens. With innovative, energy-saving technology such as triple-glazed viewing doors and heat re-circulation, these systems could cut costs by 40%.

For Commercial Kitchens

Investing in energy-efficient commercial kitchen appliances is a guaranteed way to reduce your energy consumption without changing the behaviour of your staff and how your kitchen operates.

This is especially true with large items like fridges and freezers. Refrigeration and freezing make up 30% of energy usage in an average commercial kitchen. Switching to energy-efficient appliances which use less power is a sensible move.

Once it is time to replace items, make sure you factor in energy efficiency ratings. A more expensive but more efficient appliance will save you more money in the long term. Energy Star commercial kitchen equipment (originating from America) or EU energy labels are the certifications which inform you of the energy efficiency of appliances.

Beyond kitchen equipment, lighting is another significant drain on electricity in a commercial kitchen. Of course, ensuring the lights are turned off when the kitchen closes can be a big plus. If you haven't already done so, switch to LED lighting. It offers brighter power whilst using up to 70% less electricity than standard incandescent bulbs.
Why Choose Business Energy For Your Catering Energy Switch?
We always conduct a thorough analysis of the energy market to make sure you're getting the very best deals available.
Energy prices change frequently, so we advise you to regularly compare energy prices.
We've organised over 250,000 switches
Thousands of businesses trust us to complete their energy supplier switch. So, you can rest assured knowing that you're in safe and capable hands.
We have an 'excellent' rating on Trustpilot
We have over 10,000 reviews on Trustpilot. This is important to us and our mission to provide great customer service and deals to UK businesses.
You can track your switch online
With our state-of-the-art 'Track My Switch' online tool, you can keep up to date on the progress of your switch.
Catering Energy-Saving Tips
The most successful businesses are always looking for ways to reduce their overheads.
Here are some ways you can increase energy efficiency:
A great deal of energy wastage can take place in the kitchens.
You should identify inefficiencies and discuss improvements with staff. Common inefficiencies include lighting, and leaving equipment switched on or left on standby mode. Large savings can also be made by not allowing heating/cooling units to get too hot/cold. Many businesses fail to use dishwashers efficiently too.
Educating your staff on the importance of efficiency helps reduce energy consumption. Getting them on board with your plans will ensure you're doing everything you can to reduce costs.
Make a habit of energy efficiency
Energy efficiency shouldn't be treated as a short-term solution to expensive energy bills. To maximise profits, it should be central to the ethos of your business.
It's recommended that you choose equipment with high-efficiency ratings. This will help reduce energy wastage. A good chef will advocate for high-quality pots and pans. But it may be worth listening to. They can save both time and money when cooking.
Cheap products may seem cost-effective at first, but they have high running costs. This translates to most things. Most notably, LED lights are slightly higher in price than traditional incandescent bulbs. LED lights use 90% less energy and can last 25 times longer, according to which.co.uk and the Energy Saving Trust.
Switch your catering business' utilities in one place with Business Energy
We aim to provide every catering company with the information needed to lower their energy bills.
Reduce the cost of the electricity you use in your kitchen by switching to a cheaper tariff.
Avoid being overcharged for using your cooking and heating systems. Use our services to find the best business gas energy contracts.
Did you know you could switch water suppliers? Get a better deal for your business water supply and cut costs to boost savings.